Melbourne, a city of two tales - Skybus vs The Airport Train
Melbourne, a city of two tales - Skybus vs The Airport Train
Growing up, I couldn't believe we had no train to the airport. I could catch a train to such distant wonderlands as Hurstbridge, Tecoma and Tyabb (albeit on a 'Red Rattler'!); towns so small and far away that to most people they sound mythical. Yet if I wanted to catch a train to the airport, located in Tullamarine, a suburb just 17km from the CBD, I was left scratching my head whilst dad inserted half his weekly wage into the parking machine in order for us to pick Grandma up on her return from Europe.
Any friends which visited from overseas/interstate would look at me gobsmacked and laugh. "What, there's no train? I thought you said Melbourne was the most liveable city in the world"!
Tullamarine Airport opened fairly recently (1970) in the infrastructure scheme of things. Its predecessor, Essendon Airport (still used for charter and general aviation) also didn't have a rail link, making this continued oversight even more frustrating. Admittedly, the new Tullamarine site was chosen for its relative lack of surrounding housing, theoretically making future expansion an easier proposition. If you look at the debacle that is currently the search for a site of Sydney's second airport, this foresight has turned out to be worth its weight in gold!
43 years on, we still have no end in sight with regards to high capacity (although we do have high frequency) public transport to and from Tullamarine. Multiple rail routes have been mooted – branches from the Craigieburn and Upfield lines, a direct underground line, and a branch from Albion-Jacana standard gauge freight and interstate corridor, as well as an extension of the tram line from Airport West.
Some of these have now been wisely cast aside:
The tram line would take much too long. The tram trip from the airport to the city would be almost certainly be in excess of an hour, resulting in a longer trip than a flight from Melbourne to Adelaide or Sydney!
An underground line would be much too expensive. Underground heavy rail costs about 10 times the cost of heavy rail at grade. And given the much needed 9km Melbourne Metro tunnel has been estimated to cost $9 Billion, the cost of an underground airport link could approach double that.
A stopping all stations trip via the Craigieburn/Upfield lines would take much too long, and there are too many capacity/signalling problems as it is to run extra express services.
That leaves the Albion-Jacana branch line as the only viable option. In some ways it makes sense – The Southern Cross – Sunshine section is currently being upgraded as part of the RRL, so the only new rail line needed is dual track alongside the standard gauge lines in the Albion corridor and a relatively short deviation from Airport West to the airport terminal. When PTV released their multi-decade plan recently choosing this as their preferred option, all seemed right in the world. Except...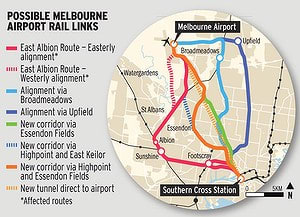 Until last year I just accepted my fate and drove to the airport. However I finally got sick of Melbourne Airport's exorbitant parking prices (the most expensive in the world – more than London Heathrow or JFK New York!) and decided to do something I promised myself I would do for years – catch Skybus!
It was a great experience – it ran direct from Southern Cross to the terminal door, ran every 10 minutes so no need to book a seat, and best of all, only took 20 minutes!
Given the airport train is tipped to take 20 minutes (via Southern Cross option) and up to 30 minutes (via Melbourne Metro Tunnel option), is it really worth spending billions of dollars on an option which wont get us there faster than the current option?
Consider this:
Skybus runs direct from Southern Cross Station to the airport, the same as a train would.
Skybus runs every 10 minutes 24 hours a day. Metro trains do not currently run overnight – running extra trains would be more expensive than running extra buses.
Skybus is scalable. If extra services need to be added at a later date, buying extra buses is much cheaper than buying extra trains! I also assume that special airport trains would have to be purchased, as current metro trains do not have any luggage storage capacity.
Skybus costs $17 one way and $28 return, comparable with Sydney's airport train. There has recently been talk of the government subsidising the fare and installing Myki readers on the buses, thus reducing the cost of a trip to the equivalent of a zone 1 / 2 fare.
There is no guarantee a train would actually increase mode share over the bus. Both Sydney's Airport Link and Brisbane's Airtrain were initial disasters, with low patronage levels forcing Sydney's train into administration and Brisbane very nearly following suit. They both survived, however even today their mode shares are only 8% and 11% respectively. Skybus' mode share is a tick under 9%. Not bad all things considering.
Skybus only takes 20 minutes off peak, but up to 40-50 minutes during peak hour. The last point is obviously the most contentious. However its one solved by creating bus express lanes on the Tullamarine Freeway. There is a risk people and organisations such as the RACV will cry foul about the effect this will have on car traffic, however road projects currently underway and planned by the Tullamarine airport authority such as extending & upgrading Airport Drive enabling another high capacity road from the Western Ring Road into the airport would go a long way to alleviating the current crunch at the end of the Tullamarine Freeway.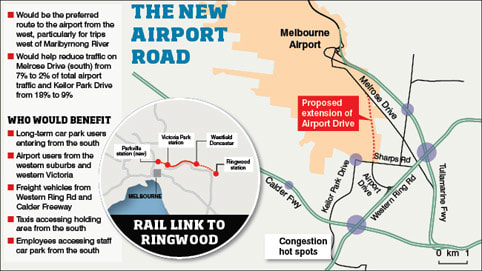 CityLink and more vigorously Melbourne Airport, are of course against this proposal. They make a fortune from the borderline criminal parking rates they charge, and aren't keen on this stopping any time soon. It is ridiculous when you think about it – what other organisation in the world would actively campaign against having yet another high quality access method lead directly to their facility?
It is time governments of all persuasions toughened up and stopped pandering to these bully boys, and put an end to this decades old impasse. Reconfiguring the freeway lanes, subsiding the fare, and most of all, promoting the hell out of Skybus, will be orders of magnitude cheaper than building heavy rail. And we can do it now, and not have to bicker about budgets and the best route for the next 10 years. With a fast, fast efficient airport link we can continue to deserve the title of 'the most liveable city in the world', not 'the laughing stock of the developed world' which our current non-existent solution is.
And my non-Melbourne friends will finally stop laughing at me!