Is it development costs or land prices causing dwelling prices to rise?
Is it development costs or land prices causing dwelling prices to rise?
There is a bit of debate around as to whether it is escalating land prices which are pushing up dwelling prices, or whether development and construction costs have a role to play too.
An unbiased observer with no barrow to push would surely conclude that it is both.
Lot prices
Clearly, land prices have increased, there can be no contesting this fact. The latest data from the HIA showed that median capital city lot values have increased by approximately 20% over the past five years to March 2014 as looked at here, the most recent gains driven largely by a material annual increase of 5.6% in Sydney. 
Source; HIA
Further, with lot sizes decreasing, the rate of of increase in land values may be deceptively somewhat steeper than implied by the HIA's charts.
While Australia continues to pursue a population policy which pushes 80,000 to 95,000 persons in one calendar year into both of its largest metropolises, it does seem that absent radical tax reform that lot prices will probably increase over time. 
The below chart represents what has happened over the last decade to the respective populations of Greater Sydney and Greater Melbourne according to the Australian Bureau of Statistics, which is to say that they increased by 600,000 and 750,000 persons respectively.
This is a colossal rate of growth and indeed this was one of the reasons that will felt a dramatic housing bust was unlikely in 2008. Notably, the population growth is increasingly focused on the capital cities rather than the "rest of state" areas, and in particular, the population growth rates are focused on the areas highlighted below.
"At June 2013, just under two-thirds of the state's population (4.76 million people) resided in Greater Sydney. Population growth in Greater Sydney accounted for 78% of the state's total growth in 2012-13." 
"Greater Melbourne accounted for 76% of Victoria's population at June 2013. Population growth in Greater Melbourne equated to 89% of Victoria's total growth in 2012-13."
Perhaps unsurprisingly, then, capital city land prices have indeed increased. 
Construction costs
That said, observers should not dismiss the role of rising construction and development costs because they don't fit the narrative.
The Reserve Bank of Australia (RBA) went to some lengths to demonstrate the high replacement cost of infill apartment dwellings in particular as at 2010.
Their research implied that a fall in apartment prices would quickly dry up the supply of new stock given that two bedroom apartments in Sydney and Melbourne had a replacement cost approaching $500,000 per dwelling.
Notably, the RBA found there to be a heavy weighting of the costs towards construction, service and financing and government charges, with the land cost only comprising a small component of the total.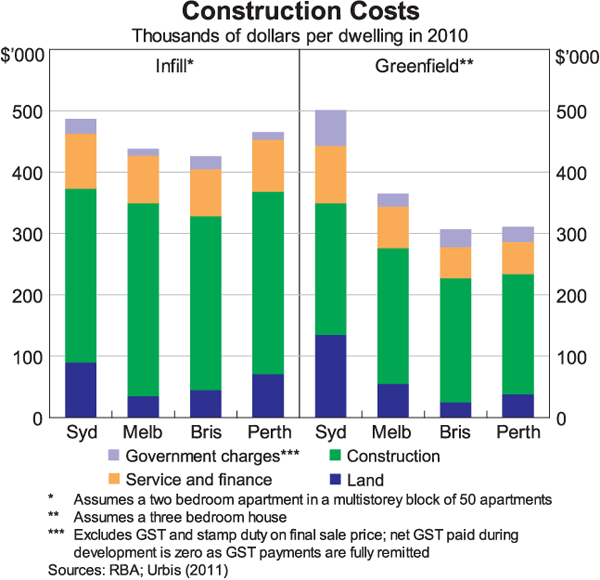 The above chart shows how it is plainly unrealistic to expect dwelling prices in our largest capital cities to be based upon an arbitrary multiple of a median salary income. Of course dwelling prices can fall below replacement cost for a time, but 'Housing Market Economics 101' should tell you that in a city with a rapidly expanding population this will rarely remain the case for very long.
The above data ties in neatly with what the Australian Bureau of Statistics found in October 2011, which was that:
"Over the last 20 years, the cost of building a new house has increased nearly fourfold.
"The average cost of building a house in Australia almost quadrupled in the twenty years to June 2008, rising from $65,000 in 1987-88 to $236,000 in 2007-08. Graphs 1 and 2 (below) show that the cost of building a house in Australia has been rising, with the rate of increase greater in the second decade."
Source: ABS 
This massive increase in the average cost of a new house was not limited to the major states - the costs of new housing increased way ahead the rate of inflation everywhere as the data clearly demonstrates.
Source: ABS 
It is folly to ignore these statistical findings simply because they do not fit the land prices meme.
Why did developer costs rise and what is the impact?
Ask any developer in our capital cities and they will tell you the same thing - that the costs of development and construction are dramatically higher in real terms than they were 25 years ago.
I looked at some of the reasons for this in detail here, also demonstrating how there is scant evidence of developers gouging high returns on capital employed, with margins remaining relatively tight even today.
This leads me to be reasonably confident in what we have heard from developers in Sydney, that approvals and rates of construction will have well passed their peak through 2016. 
One of the impacts of this combination of high land remediation costs and growing demand for dwellings close to the city has been that with replacement cost relatively high in built-out inner city locations, the house price gradient, or the ratio of house prices in the inner ring to those in the outer, has steepened considerably over the past seven years.