MBAWA announce the best multi-unit developments in Perth at the Master Builders-Bankwest Excellence in Constructions Awards
Three multi-unit developments in Western Australia have been recognised for their excellence in construction at the 2021 WA Master Builders-Bankwest Awards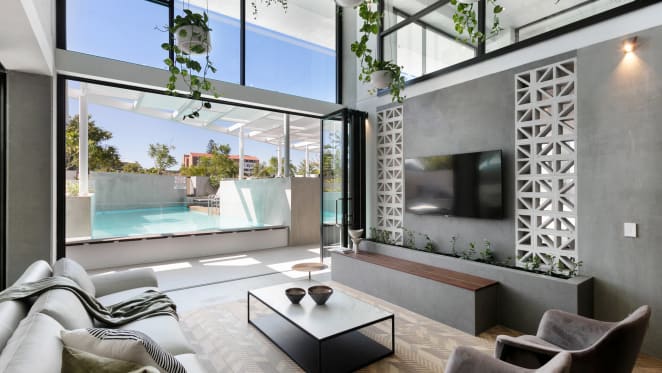 Treehouse, Jolimont. Image: Supplied
Three multi-unit developments in Western Australia have been recognised for their excellence in construction at the 2021 WA Master Builders-Bankwest Awards.
Among the winners included PACT Construction for their work on Edge Visionary Living's Arthouse in Joondalup, taking the award for best multi-unit development between $20 million and $50 million.
The Master Builders Excellence in Construction Awards recognises excellence in the commercial, industrial, and civil engineering sectors, rewarding builders for demonstrating exceptional craftsmanship and commitment to building excellence.
Situated between the recently expanded Lakeside Joondalup Shopping Centre and an array of local retail boutiques, Arthouse is now the tallest building in Joondalup.
The 16-storey development comprises 162 apartments and takes cues from the surrounding landscape.
Designed by Hillam Architects, the tower places and health and recreation at its foundation, with in-house amenities including a 15-metre lap pool, spa, sauna, yoga retreat, gym and outdoor cinema
Two smaller developments, Bode's One Iluka Beach and M/Group's Quest Perth Ascot, were also awarded the title of best multi-unit development, in the price ranges of $5 million to $10 million and $10 million to $20 million, respectively.
M/Group also entered their Como apartment building M/26 to the awards, which has been developed under one of their three boutique brands, Match.
Although one-bedroom apartments at M/26 have sold out, two-bedroom apartments are still available, offering sophisticated and elegant apartments by the river.
Consisting of 40 well-designed apartments, M/26 boasts views of the Swan River and the Perth skyline.
Also entered was the EMCO Building-constructed Jolimont development, Treehouse.
Delivered by Stirling Capital, the exclusive 48-apartment project featured 17 unique floorplans, contemporary design and three colour schemes.
Treehouse's features include an 11-metre outdoor heated pool, a two-level, fully-equipped gym and a private sun deck.
Multiplex Constructions took out the top award at the event which took place Saturday night for delivering WA's largest data centre, NEXTDC P2.
The new tech hub is a critical piece of digital infrastructure that will assist WA businesses to operate and innovate.
The awards were held on July 17 at Crown Perth.
 
For the full list of multi-unit development entrants and winners, see below (winners in bold):
Best Multi-Unit Development ($5 Million - $10 Million):
One Iluka Beach, Iluka
Builder: Dale Alcock Projects
Best Multi-Unit Development ($10 Million - $20 Million):
Aston238, Leederville
Builder: FIRM Construction
M/26, Como
Builder: M/Construction
Quest Perth, Ascot
Builder: M/Construction
Best Multi-Unit Development ($20 Million - $50 Million):
Compass Latitude, Leighton Beach
Builder: Built Pty Ltd
Treehouse Apartments, Jolimont
Builder: EMCO Building
Guildford Grammar New Boarding House
Builder: FIRM Construction
Lucent Apartments, Claremont
Builder: JAXON Construction Pty Ltd
Arthouse, Joondalup
Builder: PACT Construction