Top four downsizer developers in NSW that buyers should watch in 2022
Sydney luxury real estate prices are expected to surge by nine per cent this year, according to Knight Frank's Prime Global Forecast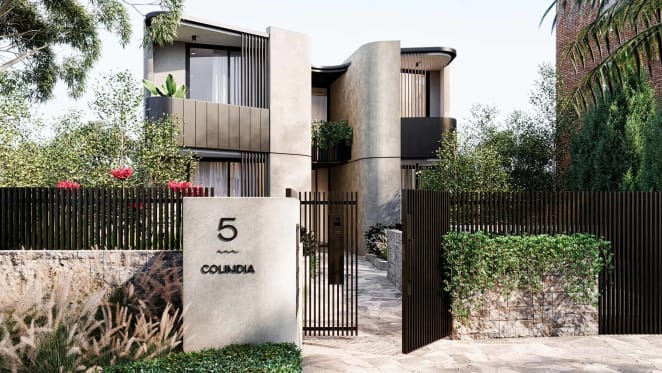 Colindia, Neutral Bay. Image: Fortis
With Sydney's luxury market proving resilient, many buyers are seeing the benefit of downsizing to a high-end apartment development at an affordable price.
Sydney luxury real estate prices are expected to surge by nine per cent this year, according to Knight Frank's Prime Global Forecast.
With many making the move to the unit market as a result of growing housing prices, buying from a developer with a track record and long-term commitment to delivering quality projects has become all the more important for aspiring investors.
Below are four of the best downsizer developers delivering residences in NSW that you should keep an eye on in 2022.
1. Fortis
Inspired by a shared passion for excellence, Fortis has continued to grow its portfolio under the instruction of Patrick Keenan, Dan Gallen and Charles Mellick, since its inception in 2016.
Partnering exclusively with leading architects, designers and builders, Fortis boasts a portfolio exceeding $276 million in successfully completed projects.
The group recently launched their latest NSW development in Neutral Bay, set to reach completion in late this year.  
Nestled at the end of a quiet cul-de-sac, Colindia boasts seven residences with expansive terraces, panoramic views and minutes from popular restaurants, cafés and bars.
Designed by PBD Architects, the development comprises six half-floor residences crowned by a full-floor penthouse, while more than 40 per cent of the site features landscaped gardens.
Fortis' new developments due for completion in the coming years have been valued at over $2.2 billion.
This year Fortis will launch their Mona Rd, Darling Point project, as well as their first apartment development in the blue chip suburb, Point Piper.
2. Sun Property Group (SPG)
Launched in 2010, Sun Property Group has spent over 10 years producing and delivering quality residential and mixed-use property developments across Sydney.
Led by Wayne Sun, the company has primarily focused on Sydney's affluent Lower North Shore area.
Currently the team at SPG, who has also just ventured in to the luxury Melbourne apartment market, are selling The Ashton, a collection of just 13 apartments on Mosman's Spit Road.
Designed by A+ Design Group, Ashton was the winner of the Sydney Design Awards 2020. It was named after the artist and teacher Julian Ashton and features Hamptons-inspired interiors, rooftop gardens and ground-floor commercial space.
Two of SPG's most recent projects heading in to 2022 are Bala in Neutral Bay and Aurora in Willoughby.
Bala, which comprises 19 two and three-bedroom apartments in Neutral Bay, was another winner for SPG in the 2020 Sydney Design Awards.
3. Abadeen Group
The Sydney developer, Abadeen Group, founded and led by the long-time CBRE Residential Projects chairman Justin Brown, is one to watch for 2022.
Founded over two decades ago, the development group has an established track record with over $1 billion in projects.
A recent partnership with the private equity real estate investment group Phoenix Property Investors will see them deliver a string of boutique residential apartment projects in Sydney over the next five years.
Among its current projects is Koyo, a Koichi Takada-designed development in Crows Nest, and its sister project, Enso, located in Neutral Bay slated for completion in 2022.
A boutique collection of 27 apartments in the heart of Crows Nest, Koyo will deliver 18 three-bedroom apartments, seven two-bedroom apartments and two one-bedroom apartments.
The development group will see 31 apartments and five restored historic terraces completed at its Brighton le Sands project, Seychelles.
4. Dare Property Group
Another downsizer developer that investors and buyers should watch this year is Dare Property Group, led by the prolific Sydney developer Danny Avidan.
"Dare Property Group was created to fill what I saw as a glaring gap in Sydney's prestige real-estate market. At the time I left the fashion industry after 25 years, the words 'designer' and 'off-plan' had not truly been recognised. I intended to change that", Avidan said.
Since it was established in 2019, Dare has grown to one of the most visionary property development brands in Sydney, with previous developments including The Carlton at Vaucluse and Bronte Place.
The luxury eastern suburbs development, Kalypso Tamarama, is slated for completion this year.
The most anticipated development by Dare in 2022 will be the Piper House collaboration with Fortis, which will offer 20 homes on a 2,000 sqm site in the blue chip Point Piper.
Piper, which stands on the northern side of New South Head Road and wraps around leafy Wunulla Road, will be available for purchase this year.