How close is Melbourne to becoming a Polycentric city?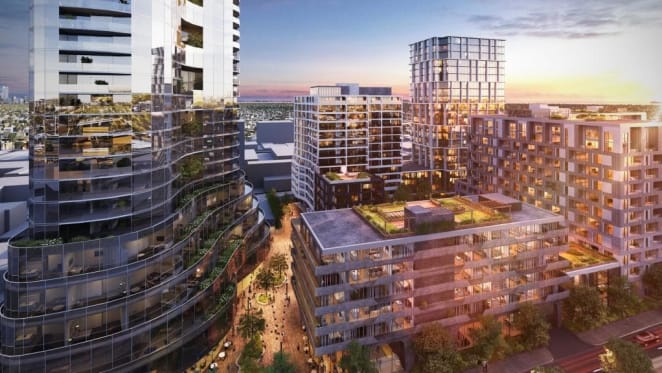 Moonee Ponds centralised density.
Firstly, what is a Polycentric city and how can it benefit our growing population?
In Urban Planning, a Polycentric city is an urban area that is organised around multiple cities. In this example, Melbourne CBD is designated as the major hub with built up connecting activity centres which benefit by sharing job creation with inner and outer suburbs using a '20 minute neighbourhood' model.
We can benefit from being a polycentric city in numerous ways as it will decrease travel time, localise businesses, encourage walkability, cycleability, social interaction, networking and community by creating opportunities in areas with existing increased infrastructure standards.
What does Melbourne look like now?
An estimated 5 million people reside in the city limits as of early 2019 with an expected projection upwards of 8 million people by 2050.
This immense growth has seen:
An average of 50,000 new homes being built, most of those are a product of Urban Sprawl with new housing estates, communities and suburbs developing beyond existing suburbia.
Due to urban sprawl, commute times have increased for many Melbournians, adding 30 minutes to the average drivers journey to work. 
With infrastructure not meeting the demands soon enough due to unprecedented growth, liveability in outer reach suburbs is lower as connection to jobs, opportunities, education and basic services require car dependency.
Most job creation is isolated to or around the Melbourne CBD, with a daily workforce of over 500,000 people.
 

What will Melbourne look like as a polycentric city?
With activity centres already in place and on the move for urban renewal and rejuvenation in Frankston, Reservoir, Moonee Ponds, Box Hill, Footscray, Preston, Epping, Sunshine, Dandenong and Werribee we will see an abundance of localised opportunity and a shared balance of job creation that extends beyond the CBD, strengthening our city economy.
When built up, these activity centres will provide a diverse range of jobs, activities and housing options for residents as well as playing major roles in delivering health, education, government, retail and commercial services.
Existing local activity centres thrive as they remain dedicated to community, culture and social attributes as well as giving residents no reason to commute one or two hours to work. This increases the quality of life majorly.
These mini-cities are hubs of medium to high density mixed use developments, which will help curtail urban sprawl thus lessening the impact on native ecological and natural environments.
Existing - Moonee Ponds Activity Centre

Moonee Ponds is a principal activity centre in Melbourne's north-west with a current population of 15,000 people. Known for destinations such as the Moonee Valley Racecourse, Queens Park and the quaint community feel of the cafe's, bars, boutiques and fresh food shopping of Puckle and Hall street.
This eclectic inner city suburb is just 7km out of the Melbourne CBD and has recently seen monumental growth in terms of density and commercialisation. At its core, the Moonee Ponds Junction serves as the arterial and tram connection to surrounding suburbs.
The 2030 Moonee Ponds activity plan expects to develop the suburb into a high density, pedestrian friendly, sustainable centre that intimately connects to public transport in an effort to reduce urban sprawl and car dependency which includes developments such as Mason Square by Caydon.
Moonee Ponds vision is to exceed in creating a new civic community space with a central square around the historic Clocktower, create major improvements to car parks and pedestrian access, fostering and nurturing retail and businesses, protecting heritage, enhancing neighbourhood character and expanding community services such as health and education centres.
Existing - Preston Central Activity Centre

Preston is a multicultural suburb 9km north of Melbourne CBD with a plan to centralise growth and progress opportunities for residents. Preston's population of 32,000 people is made up of European, Asian and Middle Eastern residents, many of which are descendants of the post war migration. The suburbs flat terrain and abundance of land resulted in low density developments to which now is evolving into a hub for the North as population growth pressure and closeness to the CBD leads to more medium to high density residential developments.
The Preston Activity Centre is centralised around the beloved Preston Market, with a strong focus on retaining its community charm and cultural significance for the suburb. The utilisation of car parks and empty plots surrounding Preston Market and the suburbs main thoroughfare for local businesses, High Street is an important factor in bringing people closer to work and opportunities. 
Preston has numerous community facilities such as the Darebin Performing Arts Centre, Preston Library and the Northern Region Migrant Resource Centre which are all serviced by Preston Station, the main link to education and fresh food markets in the suburb.
The main objective for the central plan is to curtail urban sprawl, strengthen community links and advanced opportunities, increase business and civic space and provide residents with affordable housing options. Preston could see an increase of over 10,000 new residents in the next 5 years with high density developments such as Due North and 8 Clinch Avenue.

Located in Melbourne's far north is the newly planned community suburb of Merrifield, a joint masterplan by MAB and Gibson Property which will sustain a population of 30,000 residents and 40,000 workers.
The city of the north is expected to be completed by 2025, and aims to be a hub of connectivity for small and large businesses in their business district, a cultural and community space with shops, restaurants and medium density residential and civic buildings by the Central Park and waterfront with 12,000 homes planned and already under construction.

Merrifield is serviced by rapid bus transport and major highway links though aims to truly be a walkable, 30 minute neighbourhood where residents will use the pedestrian and bicycle friendly links to reach all of their daily needs.
As the North is one of the fastest growing areas in the country, we need sustainable and centralised developments with updated infrastructure and commercial opportunities for residents. Car dependency makes working in the CBD difficult for many people living in the Northern suburbs as transport is infrequent or too far from home. Having a hub closer to the outer reach suburbs makes a vast improvement for businesses and locals who live an hour from the CBD.
The community is already home to one of Victoria's biggest Industrial Parks with Dulux, D'orsogna and Australia's first Kaufland setting up shop with access to sustainable energy and recycled water.
Merrifield boasts numerous lakes, wetlands and urban parks which are designed to encourage environmental consciousness and enrich natural biodiversities.