Fishermans Bend: will apartment towers kill it?
Fishermans Bend: will apartment towers kill it?
Apologies to Fry, but we just couldn't resist taking a bite at this topic. If you didn't read The Age on Saturday (5/10/13), you should peruse this piece titled 'Apartment towers are killing the world's most livable city.' Call it part sensationalism, part truth, part fluff... but mostly ridiculous!
Upon reading the piece, imagine now the words "apartment towers" in the headline were actually sprawl-belt development or urban fringe development. Sorry, I forgot demonising the suburban establishment is taboo in certain circles and apartment living is the devil incarnate. Quite seriously, apartment living can have its negative aspects, some of which have been touched on within The Age Associate Editor's piece, yet what viable alternative is there? Have the masses live on Melbourne's fringes with its intrinsic lack of urban amenity, public transport, long distance to jobs, inadequate services and mounting social issues? It's all good and well to pot apartment living as part of an ongoing agenda but in doing so provide a viable, efficient and responsible alternative otherwise, well, its just a load of repetitive crap!
Notwithstanding the claim "world's most liveable city" is a load of gumpf bestowed upon us by an offshore economics magazine and perpetuated by local mainstream media and the odd politician looking for a soundbite, it was a curious headline & opinion piece overall given the historic move to have the City of Melbourne, City of Port Phillip and Spring Street cooperate, and (what we can only imagine) sing kumbaya, then produce and release the Fishermans Bend draft vision (reported by The Age as well). A draft vision with apartment living at its heart.
The two previously mentioned councils are the stakeholders feeling the most pressure regarding Fishermans Bend where the Capital City Zone overlay sees planning applications automatically lodged at 1 Spring Street rather than Council House 2 or the St. Kilda Town Hall. For the best part of a decade the near bipolar stance in terms of ethos and development of these two councils and Spring Street has been a major source of friction and until now their discontent and bickering has been played out through the media.
These three entities, for all intents and purposes, were happy to put their logos on the same Fishermans Bend Draft vision document where the so-called liveable city-killing apartment towers are very much a part of the draft vision within the Urban Renewal Area - surely all three can't be wrong?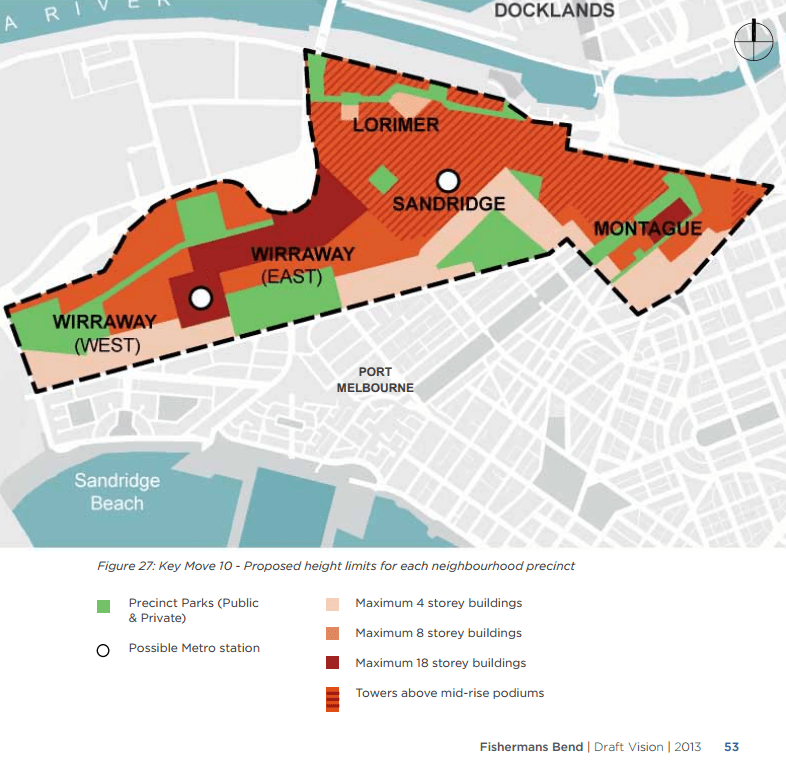 So the question must be asked, is Fishermans Bend now dead in the water as according to The Age's piece where 8, 18 and "Towers above mid-rise podiums" are the type of development which are killing our so-called liveable city?
As for the assertion of placing a moratorium on all current planning applications, well yes lets put the brakes on a positive, jobs producing aspect of the local economy which by the by is now a driver of foreign investment into Melbourne. Ultimately opinion pieces are just that, but thankfully The Age also ran a piece really worth reading on the same day - the topic of developer resistance to mandating design standards for new development - an issue far more relevant, which strikes at the crux of apartment living and what should be the housing medium's continual positive progression.
For those seeking a far more learned response to The Age piece, we highly recommend reading Alan Davies The Urbanist blog entry from yesterday.