Far East Consortium's massive 250 Spencer Street design unveiled?
Far East Consortium's massive 250 Spencer Street design unveiled?
Media circles last week reported that Melbourne CBD's tallest tower (to date) had received planning approval. With news of the revised planning application first broken by Urban.com.au during November last year, recent reporting of approval for 250 Spencer Street relates to the site masterplan. In effect, approval for an overarching development envelope rather than the final design.
Indeed approval has been given for four towers of between 205 and 300 metres in height, although the ultimate design for each has yet to be submitted. What is known is architecture firm Cottee Parker will deliver near on 3,000 apartments and two hotels of some 488 rooms over the four towers.
As reported in the Australian Financial Review last week, Far East consortium have secured Ritz-Carlton to anchor the premium hotel space, located within the top 15 levels of the tallest, 300 metre tower.
With the final design not yet submitted for approval, a grainy yet excellent indicator was included in developer Far East Consortium's newly published 2014 Annual Report. The hulking towers seen below dwarf neighbouring northern residential developments, and bare a strong resemblance to the endorsed masterplan concept.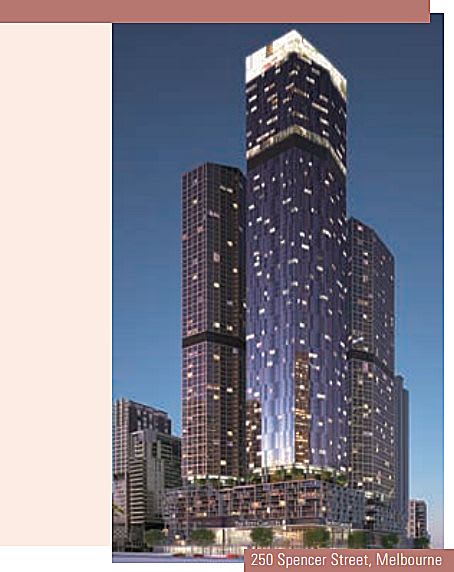 In June 2013, the Group acquired another piece of land (known as 250 Spencer Street Site), located next to the Upper West Side development with site area of approximately 1.176 hectares. 250 Spencer Street Site is currently with a planning permit for residential development with a total sellable area of approximately 2.2 million sq. ft.

The project is expected to consist of approximately 3,000 residential apartments and will be developed in phases.

Far East Consortium 2014 Annual Report
As outlined within the statement above, Far East Consortium aren't strangers to delivering large-scale projects as directly opposite the company has recently released for sale The Fifth. Its 399 apartments join the 2,207 existing/under construction apartments of Upper West Side for a staggering total of 2,606 dwellings over five towers. All five residential buildings were also conceived by Cottee Parker.
Currently 250 Spencer Street resembles a bomb site of sorts as Guilfoyle Demolition reduce The Age's former citadel to little more than dust. While demolition continues, a piling rig has also been plying its trade onsite implying that at the very least Far East Consortium intend to waste no time emulating the success of Upper West Side.