Nova's Wippa lists Queens Park residence
Nova's Wippa lists Queens Park residence
Nova's 'Wippa', aka Michael Wipfli, and his wife, Lisa, have listed their Queens Park home.
It has $2.5 million hopes for its June 4 auction.
The couple bought the Federation semi for $1.87 million in 2014 when sold by the McGrath estate agency.
CoreLogic indicated it last sold after just six days on the market.
The couple have repainted the architect-designed four-bedroom, two-bathroom home.
It sits on a 159 sqm block at 4 Rawson Avenue.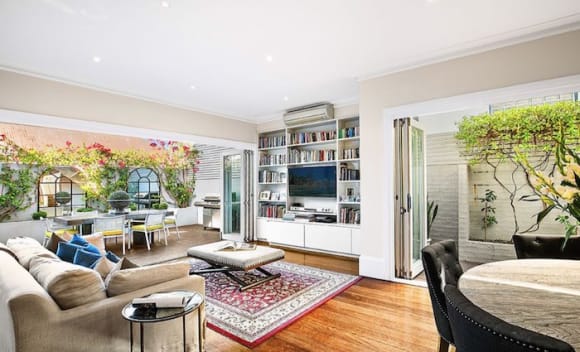 The couple intend to upsize to Vaucluse to be closer to schools, with the local paper The Wentworth Courier reporting they have missed out on several homes.
The 39 year old is on the Nova 96.9 breakfast show, Fitzy and Wippa with Ryan Fitzgerald. Lisa is co-owner of the baby health food company Nourishing Bubs.
The former Australia Olympic Committee chief Fiona de Jong sits among recent buyers in Queens Park though Belle agent Edward Brown who has a May 25 auction nearby on Rawson Avenue.
Film editor David Gross has recently listed the Queens Park home he bought with actor Brooke Satchwell. 
Given the tougher market conditions, Wippa's listing agency has struggled with sales and listings this year.
Phillips Pantzer Donnelley has sold just 155 properties in 2019 and has 72 properties currently on the market.
This time last year Phillips Pantzer Donnelley had sold 173 properties with 80 properties on the market.
The Agency's Ben Collier recent write  there were five reasons why locals loved living at Queens Park.
1. Queens Park is a great spot for relaxation, recreation and organised sport, with its cricket, rugby, touch football and soccer fields and an excellent children's playground and cafe. 
2. The peaceful suburb offers easy access to lots of urban attractions, including the shopping mecca that is Bondi Junction and the trendy boutiques around Bondi Beach. 
3. Locals can enjoy an abundance of green outdoor spaces with Centennial Parklands right on their doorstep. 
4. The great schools include Moriah War Memorial College is an Australian independent Modern Orthodox Jewish co-educational day school offering education from Kindergarten through Year 12. Nearby campuses of co-educational Reddam House are non-denominational and also offer K-12.
5. Locals also love the Sydney beach lifestyle that Queens Park offers, with some of Sydney's finest beaches – Bronte, Tamarama and Bondi – just a couple of kilometres away.