Home loan credit conditions tightened more than was probably required: RBA
Home loan credit conditions tightened more than was probably required: RBA
Home loan credit conditions tightened more than was probably required, the RBA governor Philip Lowe said today. 
"Overall, the evidence is that a tightening in credit supply has contributed to the slowdown in credit growth," he told the AFR Business Summit.
"The main story, though, is one of reduced demand for credit, rather than reduced supply.
"Even though the slowing in credit growth is largely a demand story, we are watching credit availability closely.
"It is perhaps stating the obvious to say that we want lenders who are both prudent and who are prepared to take risk.
"As lenders recalibrated their risk controls last year, the balance may have moved too far in some cases.
"This meant that credit conditions tightened more than was probably required.
"Now, as lenders continue to seek the right balance, we need to remember that it is important that banks are prepared to take credit risk.
"And it's important that they have the capacity to manage that risk well.
"If they can't do this, then the economy will suffer," Dr Lowe said.
"It has also been apparent through our liaison that some lenders became more cautious last year."

"No discussion of housing prices is complete without touching on interest rates and the availability of finance. The low interest rates over the past decade did increase people's capacity to borrow and made it more attractive to borrow to buy an asset whose price was appreciating. But the increase in housing prices is not just about low interest rates."
Dr Lowe noted that recently there had been much attention paid to the availability of credit.
"This attention has coincided with a noticeable slowing in housing credit growth, especially to investors (Graph 10).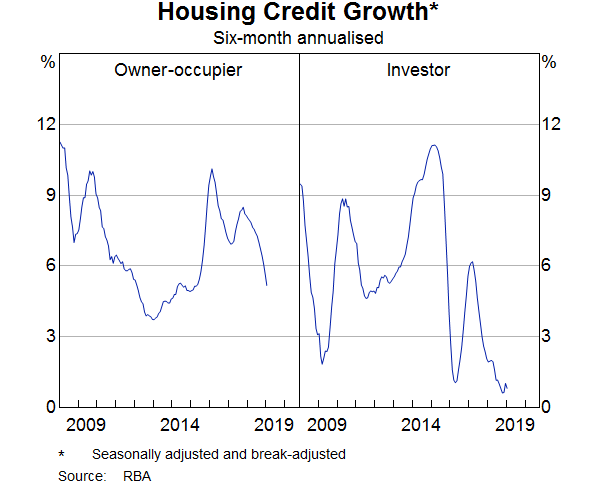 "It is clear there has been a progressive tightening in lending standards over recent years.
"The RBA's liaison suggests that, on average, the maximum loan size offered to new borrowers has fallen by around 20 per cent since 2015.
"This reflects a combination of factors, including more accurate reporting of expenses, larger discounts applied to certain types of income and more comprehensive reporting of other liabilities.
"Even so, only around 10 per cent of people borrow the maximum they are offered.
"Sensibly, most people borrow less than what they are offered, so the effect of this reduction in borrowing capacity has not been particularly large."