NSW Government puts cap on Sydney Airbnb rentals, with regional councils able to follow
NSW Government puts cap on Sydney Airbnb rentals, with regional councils able to follow
The NSW government will impose a 180-day cap on the number of days empty properties can be rented out by Airbnb in Sydney.
It will also give strata corporations the power to ban Airbnb in their buildings if 75 percent of owners seek the ban. 
Short-term holiday letting is currently unregulated in NSW. 
Sydney ranks as one of Airbnb's top ten cities for most properties on the platform.
The new laws come with no caps across the rest of the state, but councils outside of greater Sydney will have the power to impose their own caps, though no lower than 180 days per year. Byron Bay could move first as its locals have been affected by increased rent as its short-term holiday rental market booms. It has been calculated that in Byron shire visitors outnumber locals by a ratio of 70 to one.
Better Regulation Minister Matt Kean was forced to go back and consult with the government's backbench after MPs revolted over the initial cabinet-approved policy, which proposed only the 180-day cap but gave no power to the individual strata committees.
Hosts or guests who commit two serious breaches of the code within two years could be by Airbnb from using Airbnb and other similar platforms for five years, and placed on an exclusion register.
Kean described the reforms as the "toughest laws in world to crack down on bad behaviour" in the short-term letting industry.
"We've got the balance right between protecting people's property rights, between recognising owner's corporations have a role to play in the governance of strata schemes, and ensuring people who want to use these platforms like Airbnb are able to do so," Mr Kean said.
Airbnb's Global Head of Policy Chris Lehane championed the reforms as a potential "world model" for the industry, describing them as "fair and balanced". Lehane said Airbnb was comfortable with sharing its data with government agencies.
International cities like Berlin and Barcelona have found regulating these platforms is not always easy with enforcing restrictions against individual hosts cumbersomely costly.
The home sharing platform Airbnb came out in support of a limit on the number of days a investment property can be rented in NSW strata, as it sought to avoid a tougher regulatory crackdown by the NSW government.
In a submission to the NSW government, Airbnb said there were more than 45,000 Airbnb listings in the state with average host earning around $5,300 a year.
The NSW government's options paper, which was released last July, considered a range of options balancing protecting neighbours and allowing people to profit from providing short-term accommodation.
Airbnb's prior submission has called for a statewide planning framework which clarifies how individuals are allowed to rent out the homes.
"Airbnb supports a clear, statewide approach that supports our host community sharing their own primary place of residence without the need for approvals, registrations, or caps, and for non-­primary places of residence, an approach that is streamlined with clear information about the safety and planning standards to adhere to," it said in the submission.
London introduced a 90-day limit a calendar year on Airbnb rentals. 
In June 2015, Philadelphia became the largest city in the U.S. to pass legislation specifically enabling people to share their homes for up to half a year.
The city of Hamburg acted to clarify that rules restricting tourist accommodation in residential areas do not apply to primary residences.
The Hamburg housing law gives residents the right to use all of their home to host guests for up to 50% of the year. Alternatively, they can use 50% of their home to host guests all year round. 
A recent City of Sydney Council survey of 1000 residents showed more than 40 per cent of Sydney inner-city residents oppose short term rentals on Airbnb or Stayz as a full-time investment and believe strata bodies should be able to ban short-term rentals.
Airbnb also recommends the NSW government set up a "three-strikes-and-you're-out" framework to manage complaints.
Airbnb opposed giving strata bodies the power to prohibit short-term renting. 
New South Wales' host community has welcomed nearly 420,000 Airbnb guests during a recent twelve months which represented a year-over-year growth rate of 167 percent.
In an Economic Impact Study that Airbnb conducted in Sydney, Airbnbn found that the majority of hosts (85 percent) rent their primary residences occasionally and earn a modest but significant amount of extra income that they use to help make ends meet.
In Australia, the average host earns $7,100 per year and hosts approximately 51 nights per year.
Martin North at Digital Finance Analytics suggests a significant share of Airbnb Sydney hosts are using the platform to engage in economic activity that existed long before Airbnb did – that is, dwellings are used as serviced apartments, B&Bs or holiday rentals.
"This is commercial activity, not sharing.
"These properties aren't just "excess" unused housing space and there's no "sharing attitude" involved," he blogged today.
Mapping the Sydney listings shows these traditional short-term lets were only about a quarter of listings, but they were overwhelmingly concentrated in suburbs with very tight rental markets.
LOCATION OF TRADITIONAL SHORT-TERM LETTING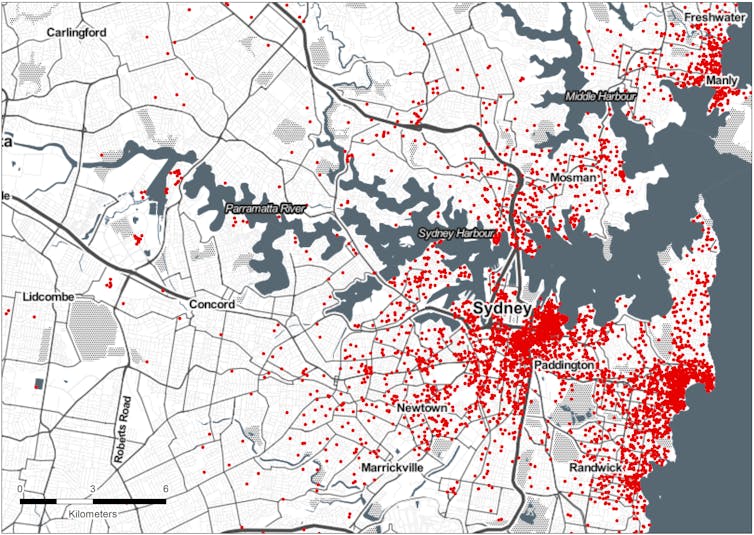 LOCATION OF HOUSE SHARING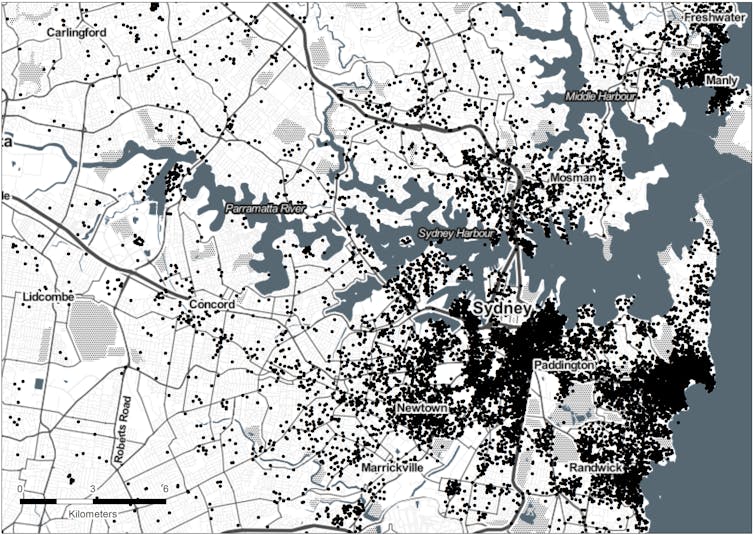 "That's a lot of properties in popular neighbourhoods that might otherwise be long-term rentals," North suggested.