Historic Southern Tablelands farm Markdale relisted
Historic Southern Tablelands farm Markdale relisted
Markdale, the NSW country farm with unrivalled pioneering polo history, has been listed for sale by the Ashton family.
It's a 1920s house with extensions by Professor Leslie Wilkinson set in an Edna Walling-designed garden.
Surviving the many droughts of the Crookwell district, the 2550-hectare Binda farm has been held by three generations of Ashtons, most recently by company director Geoff Ashton and high society interior decorator wife, Mary.
Silver birch, oaks and golden elms frame the hillside seven bedroom homestead, which is topped off with its polo-player weathervane symbolising the family's association with the sport.
James Ashton, one of the family who put Australia on the world polo map, bought the original holding, followed by his son, Geoff snr.
In 1984, Geoff jnr took over the Southern Tablelands property that derives wool production and guesthouse income from its two original stone cottages and the shearers quarters.
It is tipped to fetch more than $7 million through Richard Royle at Colliers International.
Markdale's garden is acknowledged as one of the great country gardens of Australia, rejuvenated in recent years, featuring include a wisteria and rose pergola, several sculptures and lake with its Chinese bridge.
Only once, at Markdale, did the two Australian icons combine their talents, Professor Wilkinson extensions and gardens by Edna Walling
The guestbook shows just how generously the Ashtons have entertained their family and friends there since 1921.
Geoff and Mary have thought about selling it on and off for almost the past two decades, and would love for a buyer to emerge who has a passion for the property, set about two and a half hours drive from Sydney.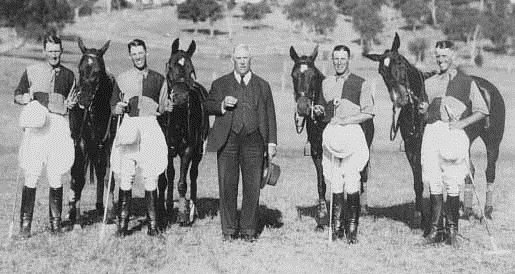 James Ashton started as the copy boy on the Hay newspaper before owning it, and in business become chairman of MLC and The Commercial Banking Company of Sydney.
He had four sons Jim, Robert, Geoff and Phil, who began playing polo against his wishes, but persuaded by his wife 'that those who play together, stay together' he let them continue.
In the 1930's, the brothers shipped their horses to England, the United States and India to compete against top international teams, winning numerous tournaments, including England's Hurlingham Championship and the Indian Empire Shield, and an invincible team in Australia retiring unbeaten in 1938.
This article was first published in the Saturday Daily Telegraph.