Insider property guide: Booming Melbourne suburbs you should be considering
Insider property guide: Booming Melbourne suburbs you should be considering
Looking for property? To help you in your search, we have compiled a list of leading suburbs and developments to keep in mind when looking for your new home. 
These suburbs have been selected based on:
Walkability
Amount of developments listed on Urban.
Cultural and Economic importance
Melbourne CBD
According to the Australian Bureau of Statistics, the population from data in 2016 shows that Melbourne and surrounding inner-city locales showed the highest density of people (17,500 people per square kilometre).
On Urban, there are 171 new developments listed in Melbourne's CBD, many of which feature striking architecture and push design boundaries in the skyline. Some standout buildings include Collins Arch, Sapphire by the Gardens and Westside Place.
Collins Arch comprises of 202 residences and 294 hotel rooms across two 41-floor towers. These mixed-use buildings also feature retail spaces that will add convenience to the lives of residents.
The city block will contain Melbourne's first public park in almost 40 years, bringing 1,900sqm of green refuge for the community and a multiple storey sky bridge that connects the two towers at the top, creating an interesting architectural design.
Melbourne CBD is the key location for the greater region with a daily population of 950,000 people. The most iconic locations include Queen Victoria Market, Birrarung Marr, Federation Square, Collins Street, Melbourne Central, Emporium, The State Library of Victoria and the myriad of cafes, bars, clubs and restaurants that line the vibrant streets.
The CBD is truly a 24/hour suburb with year-round entertainment and events such as Moomba, Night Markets and White Night to name a few.
It is also a World-class business hub, employing over 400,000 workers, hosting five out of the top 10 global companies and leading in terms of liveability, transport, education and innovation.
The creativity of the city is seen through the many live music venues, the graffiti cafe laneways featuring works from local artists and plenty of art galleries.
Walkability
Melbourne CBD is extremely walkable ranking 4th out of 307 suburbs in the Greater Melbourne region. A car is not necessary in the CBD unless you enjoy day trips to the Dandenongs or afar with trams within the zone being free and multiple train stations part of the extending Metro loop connecting you to all parts of the city and country, there isn't a need to drive.
With prices for a one-bedroom apartment starting from $431,000*, it pays to be part of the sports, retail, cultural and economic capital of the Southern Hemisphere.
Southbank
Currently, there are 63 new developments listed on Urban for Southbank, consisting of some of the tallest residential skyscrapers in the country.
The 100 storey Australia 108, rises 318 metres above the suburb, boasting the highest residence in the Southern Hemisphere when completed in 2020.
The Fender Katsalidis-designed tower subtly references its neighbour, the Eureka Tower (also designed by FKA) with its golden starburst providing a link to the golden glass feature atop the former tallest residential structure, Eureka Tower.
Melbourne Square is set to be Southbank's newest mixed-use precinct with a large dedication to green space surrounded by the active podiums of the residential, hotel and commercial towers that rise above them. 
Walkability
Southbank is often regarded as a precinct where daily errands can be achieved without a car, ranking 11th on the Walkscore ranking.
The liveability and walkability of the suburb is constantly increasing with new infrastructure developments such as The Southbank Boulevard and Dodds Street Draft Concept Plan, which will see the transformation of major roads and streets transformed into pedestrian-friendly areas.

Tramlines make the suburb effortlessly accessible and cater to the daily population of almost 50,000 people who live and work in the area. 
The concept will link the Arts District to the Domain Parklands and the Yarra River providing the suburb with much-needed green space, cycle lanes and effortless public transport access.
Prices for a one-bedroom apartment in Southbank start from $395,000.
Footscray
Footscray is a melting pot of culture, creativity and rich industrial heritage with a population of 19,361 and 60 new developments currently listed on Urban.
The Inner-Western suburb is booming and forecasted to reach a population of over 40,000 in 2041. Central Footscray reflects the successive waves of immigration, becoming a hub for Italian, Greek, Vietnamese and East African restaurants and shops that line the main streets.
TimeOut magazine listed Footscray at No. 13 in its '50 Coolest Neighbourhoods in the World' for 2019, citing the rapid development, diversity of international cuisine, emerging arts scene and eclectic bars and cafes as the reasons why Footscray is the place to be in Melbourne.
Developments include Victoria Square, by developer Growland, which comprises of 939 one, two and three-bedroom dwellings. Victoria Square neighbours Australia's only Olympic-sized aerial outdoor track that wraps around the podium of the development. 
A new dining destination will be created with laneways consisting of over 3,000 square metres of bars, supermarkets and diverse restaurants linking residents and the community to the Maribyrnong River.
Major sites include Victoria University, Footscray Market, Footscray Community Arts Centre and the newly approved Footscray Hospital (estimated completion 2021)

Walkability
Footscray has a walk score of 78, which means it has above decent access to daily needs and services in walking distance.
Footscray is serviced by the Metro Footscray Station which caters to the Western suburbs and regional Victoria with a V-Line link as well as the ability to be in the CBD in under 15 minutes.
Buses also run through Footscray and are a large connector for the precincts and suburbs surrounding the city.
Prices for a one-bedroom apartment in Footscray start from $330,000 on Urban.
Box Hill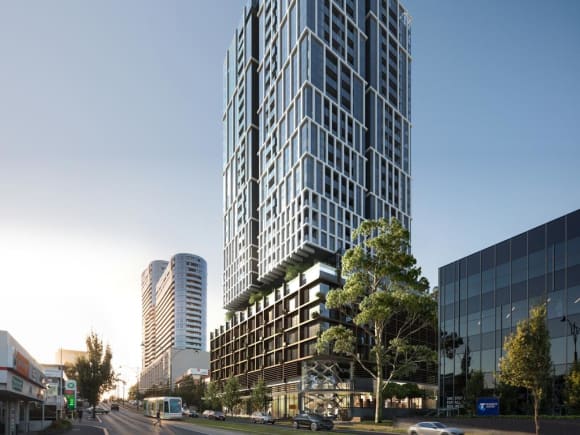 Box Hill is often touted as Melbourne's second CBD and is located in the North-East of the city. With 57 new developments listed on Urban so far, Box Hill also has multiple planning approvals set to come through in the next year or two.
The suburb has been chosen as an existing activity centre and future 20-minute neighbourhood by Plan Melbourne, showing strides of becoming an important economic hub with major transport services and opportunities for education.
Box Hill's community centre reflects the diverse demographics with 36.9% of residents speaking English at home. Mandarin Chinese being the most commonly spoken language other than English (28.3%)
Major precincts include Box Hill Central Shopping Centre, Whitehorse Road, Box Hill Gardens and a revamp of the main pedestrian shopping streets into Melbourne's second-largest Chinatown, featuring over 3 levels of restaurants and cafes dedicated to the large Chinese community in the area.
Set to soar into Melbourne's eastern skyline is Box Hill's East Central Tower. What lies in wait is a modern-day haven and luxury lifestyle brought to you by heavyweight architect Fender Katsalidis.
A 24-level glass tower composed of four slimline towers, and raised above a six-level gridded podium, this high-rise pays tribute to the earth and its verdure. At the top of the podium is East central tower's highlight: an outdoor garden awaits residents seeking refuge and respite from their busy day-to-day lives.
Box Hill has approximately 35 highrise buildings planned for its future with Council approval.
Prices for a one-bedroom apartment in Box Hill start from $330,000 on Urban.
Walkability
Box Hill has a walk score of 72 which is above average for Melbourne suburbs with daily needs and services within walking distance from home.
Docklands
The waterfront suburb of Docklands has progressed quite drastically from the industrial wasteland 20 years ago. Now home to over 20,000 people, Docklands is developing its last parcels of land with 52 new developments currently listed on Urban.
Major destinations include The District featuring over 200 brand outlets and stores, a dining precinct, cinemas and Melbourne's 120-metre Observation Wheel. Kangan Institute, Collins Square, Southern Cross Station, Newquay, Yarra's Edge and The Library at the Dock are all reasons why Docklands is so special.
Melbourne Quarter is a mixed-use precinct comprising of two commercial towers, two residential towers and a sky park offering green space to the Docklands community and creating an effortless link to both the Yarra River and the Central Business District.
Walkability
Docklands has a walk score of 86 with daily needs and services within walking reach of most residents. Docklands has also become an economic hub, catering to major headquarters for global and national businesses such as ANZ, Myer, BP Australia, Melbourne Water, Transurban, KPMG, CSIRO and more.
The area has become a well connected, vibrant master-planned suburb linking the CBD to the harbour with extensive tram networks, dedicated parklands, and waterfront restaurants, bars and clubs.
Home to Marvel Stadium, which has the ability to host over 100,000 people during any occasion, Docklands adds to Melbourne's sporting capital title.
Prices for a one-bedroom apartment in Docklands start from $470,000 on Urban.
South Yarra
Located South-East of the Yarra River, South Yarra is one of Melbourne's most prestigious suburbs with over 25,000 residents and a walkability score of 92, ranking 6th out of Melbourne suburbs. 
With 83 new developments currently listed on Urban, you could say that South Yarra is in yet another large building boom. The tallest tower outside of the CBD, Capitol Grand, will rise on the corner of Toorak Road and Chapel Street in the heart of South Yarra at 172 metres.
The tower will comprise of 377 luxury apartments and penthouses with three levels of ground-floor retail including the first-ever David Jones Food Hall Concept Store which opened to the public in October 2019.
Walkability
South Yarra is incredibly connected via Metro and extensive tram lines flowing to the North, South, East and west of the city via Chapel Street and Toorak Road.
Chapel Street is lined with exclusive and eclectic boutiques, a mixture of international and local designer stores, cafes, bars and restaurants as well as edgy clubs.
Parklands and supermarkets are all within walking distance with heritage leading schools such as Melbourne High, established in 1905 and Melbourne Girls Grammar.
South Yarra has an uplifting and warm community feel with access to a diverse range of services. Major precincts and locations include the Jam Factory, Vogue Shopping Centre, Chapel Street, Palace Cinema Como House, Prahran Market and Herring Island Sculpture Park.
Prices for a one-bedroom apartment in South Yarra start from $520,000 on Urban.
Doncaster
Located in the mountainous north-east, the leafy suburb of Doncaster is booming in residential and economic progress. Westfield Doncaster featuring over 400 stores, department stores, dining precincts and entertainment is in the heart of the suburb, catering for over 800,000 people.
One major development in the area is Tullamore, comprising of five distinct collections of townhomes and apartments brought to you by Mirvac.
Residents of the Tullamore precinct are also invited to enjoy the use of the on-site Next Gen Health & Wellness Club (anticipated to be completed in 2020) which includes state-of-the-art fitness facilities, heated indoor and outdoor swimming pools, regeneration spa and hotel-style tennis courts.
The team at Mirvac have masterfully achieved this by dedicating 20% of the entire development to green, open spaces; creating new playgrounds; walking and cycle trails; preserving established trees, and thoughtful landscape design. Doncaster Primary and Doncaster Secondary are all within a five to ten-minute drive from anywhere in the suburb.
Walkability
The walkability score of 58 ranks the suburb quite low due to the demand for car dependency and lack of public transport outside of bus routes, however, if you are looking for an apartment or townhouse, majority of developments appear to be within close proximity to major connection roads to access daily needs within a few minutes drive.
The suburb is surrounded by Koorung Creek Trail with cycling paths around the leafy parklands.
Prices for a one-bedroom apartment in Doncaster start from $398,000 on Urban.
Moonee Ponds
Melbourne's inner North-West is seeing a mini CBD rise out of the vibrant community of Moonee Ponds. With 38 new developments currently listed on Urban, it is clear that much like Box Hill, the suburb shows the same energy in terms of the residential boom.
Puckle Street is the main thoroughfare lined with eclectic boutiques, restaurants, cafes and bars with local designers and large supermarket and department store chains. The suburb is serviced by the extensive tram network on Mount Alexander Road and Moonee Ponds Train Station which will get you to the CBD in under 15 minutes.
Mason Sq is a mixed-use development rising in the heart of the suburb with five residential buildings including its tallest, Rise, at 29 storeys.
A third of the development is dedicated to community spaces and laneways that bring a unique retail presence comprising of eateries, pop-up markets and performance spaces, blending beautifully with the existing retail and fine dining opportunities of Hall Street and Puckle Street in Moonee Ponds.
Developed by Caydon and designed by Fender Katsalidis, the precinct brings the buildings together with Mason Gardens, a lush green central 'backyard' with lawns, a multi-use court, lounging hammock retreats, a well-stocked tool shed and veggie gardens.
Walkability
The suburb is surrounded by lush green parklands with walking and cycling trails that line the Maribyrnong River and within walking distance to the beautiful Queens Park. With a population of 15,000 people, Moonee Ponds is expected to see unprecedented growth as its activity centre becomes an important fabric to the inner west.
According to the Walkscore Ranking, Moonee Ponds has a walkability score of 75, meaning most residents will not need a car to access daily services and needs.
Prices for a one-bedroom apartment in Moonee Ponds start from $370,000 on Urban.