Peter Maltezos
wrote on Tue, 14/05/2013 - 20:09
The Victoria Hotel (former Victoria Coffee Palace)
215 Little Collins Street
The Victoria Hotel is one of Melbourne's original hotels, established 125 years ago, opening its doors for business on 1 November, 1880, just 45 years after Melbourne was established in 1835.
The Victoria Hotel was originally known as the Victoria Coffee Palace, founded by a Temperance League as an alternative to the rowdy, bawdy pub accommodation on offer during the late 19th century.
The original lobby is still in use today, minus the skylight dome, removed during WWII to blackout the hotel as a security precaution.
At one stage, The Vic, as it became known, was advertised as the largest hotel in the Commonwealth. Today it remains the largest three star hotel in Australia.
Known as a luxury hotel in the 20's and 30's, The Vic prided itself on its guest service, including porters being sent to meet guests arriving at Port Melbourne Docks and Spencer Street Train Station.
A coffee palace differed from the regular hotels in Melbourne in another important way - it was a dry hotel - no alcohol! Instead, patrons imbibed beef tea, mineral waters and, of course, coffee. Fortunately, things have changed and guests can now enjoy a drink in Vic's Bar.
The Victoria Hotel was the first in Melbourne to offer electric lights in its rooms.
The founder of the hotel was the Honourable James Munro, a former premier of Victoria.
During WW2 the American army occupied a large section of the hotel for many months
The 1956 Olympics in Melbourne saw the Victoria Hotel feature as the main meeting place for the IOC, many of its functions and banquets being held here.
Below, in the postcard and photograph, the Victoria Coffee Palace with its incredible elegant verandahs on Collins Street. It was established in leased premises, known as "Clyde House" taken over from The Victoria Club, which was in liquidation after having been one of the earliest institutions in Melbourne. In 1924 the lease of the Collins Street premises expired and the building was vacated and later demolished to make way for an expanded Melbourne Town Hall.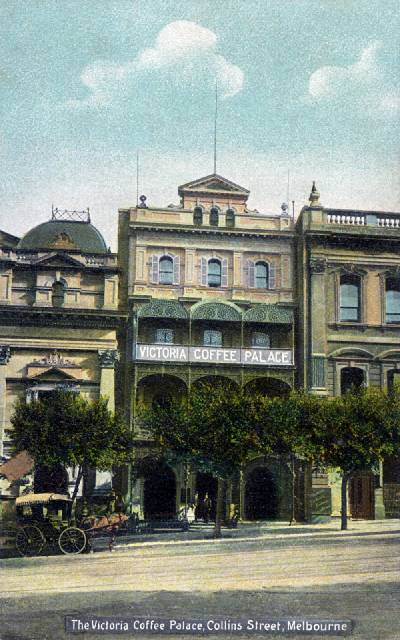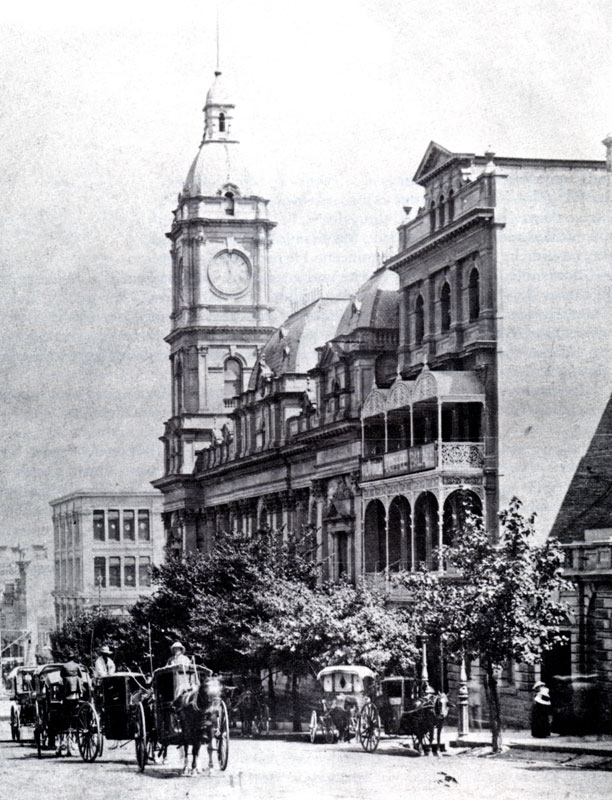 In 1911 the new building on Little Collins Street was completed, one can see the Little Collins Street building in the two old postcards below and after that, two of my own photographs.