Peter Maltezos
wrote on Sat, 18/05/2013 - 18:03
Text from Walking Melbourne
The National Trust guide to the historic and architectural landmarks of central Melbourne
Temperance & General (T&G) Building
143 Collins Street, corner of Russell Street
Located on the crest of the Collins Street hill, this landmark was built by the Temperance and General Life Assurance Society. Designed by A & K Henderson, it was built in stages (1929, 1938 and 1959), developing into the largest and most prominent interwar office block in
Melbourne – popular with dentists, the T&G Building was fondly known as the 'Tooth & Gum' building. The Commercial Palazzo form topped by a stepped tower was repeated in Sydney, and in smaller versions in other capitals, country towns and New Zealand, in a unique form of corporate branding. The building was controversially 'facaded' and new offices built behind in 1990, to a design by architects Metier III. The insurance Hall was demolished and then reconstructed, but the entry mural painted by Napier Waller in 1928 was retained intact, and the new atrium is a notable space, incorporating sculptural blocks with images of Melbourne landmarks.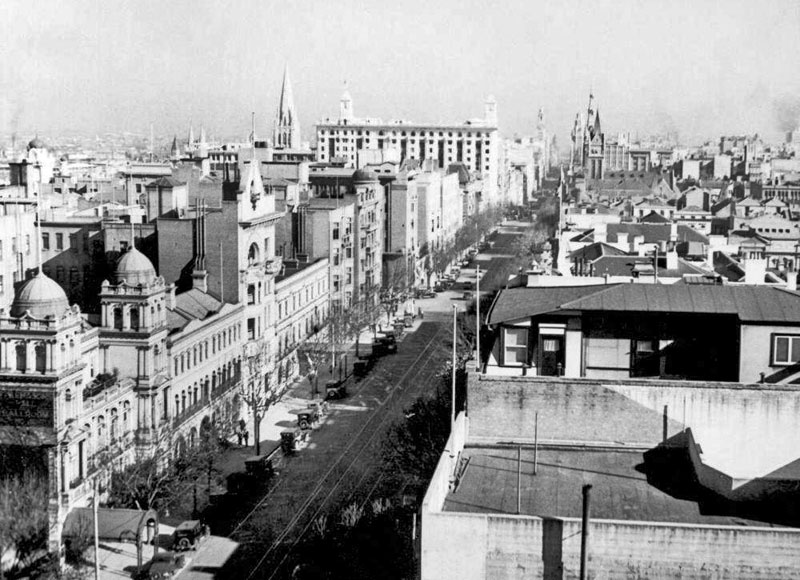 Above, in a photograph taken in 1935 we see how much this building dominated the immediate area and with its twin towers (second tower facing Fliders Lane) intact, before one was removed and the Collins Street one was enlarged.
Another photo of the original building.
Photo by Dr J. Baum
Below, postcard and sketch of the T&G building.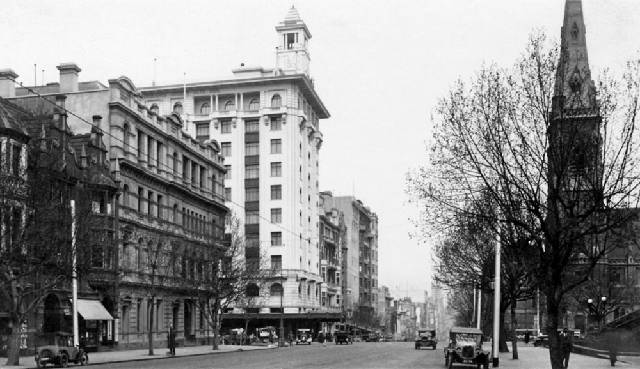 Notice how the tower is now taller in the sketch and my own photo below. :D