Peter Maltezos
wrote on Thu, 25/07/2013 - 08:13
Text from Melbourne Architecture
St. Paul's Cathedral
2 Swanston Street, Melbourne
Architects: 1880-91 William Butterfield, Reed and Barnes
1912 Walter Butler (choir)
1926-31 James Barr (spires)
Built to replace Charles Webb's St Paul's Church and located on the site of the first official church service in Melbourne in 1836, St Paul's Cathedral has continued the site's history as the centre of the Church of England in Victoria.
Designed in 1878 by eminent English Gothic Revival architect William Butterfield (who never visited Australia and who also designed Adelaide's Anglican cathedral), St Paul's is one of his larger commissions, although it was not completed to his original design – the existing spires are not those of Butterfield.
He had envisaged an octagonal crossing tower and two saddle-backed west towers, which would have given an altogether different feeling – a more rugged, robust and some might say even primitive Gothic evocation.
Instead, Sydney architect James Barr provided the conventional Gothic spires and in a different stone to Butterfield's bold contrasting textures of Waurns Pond and Barrabool sandstones (described as 'polytexture') which feature on the chequered western façade (in fact, south façade due to having to conform to Melbourne's street grid).
Despite this, the interior is almost entirely Butterfield and is a triumph of Gothic Revival architecture inspired by the vibrant striped polychromy of Italian Gothic cathedral interiors.
Butterfield's philosophy of an increasing decorative hierarchy is realised at St Paul's.
Encaustic tiled floors and wainscoting give way to marble and glass mosaic as one moves closer to the altar. The kauri pine ceiling, while fine in workmanship and execution, was not part of the Butterfield design. He resigned from the commission in 1888 after a disagreement with the Cathedral Erection Board Committee, but his work was continued in 1888 in an honorary capacity by Joseph Reed of Reed Henderson & Smart (later Reed, smart & Tappin).
The adjacent four-storey Chapter House and Diocesan Offices were also designed by Butterfield and complement the cathedral design.
While St Paul's Cathedral has a mixed architectural pedigree, its skyline of spires is a much–loved Melbourne landmark.
St Paul's Church at the corner of Swanston and Flinders Streets photographed in 1870, later demolished for the erection of St. Paul's Cathedral.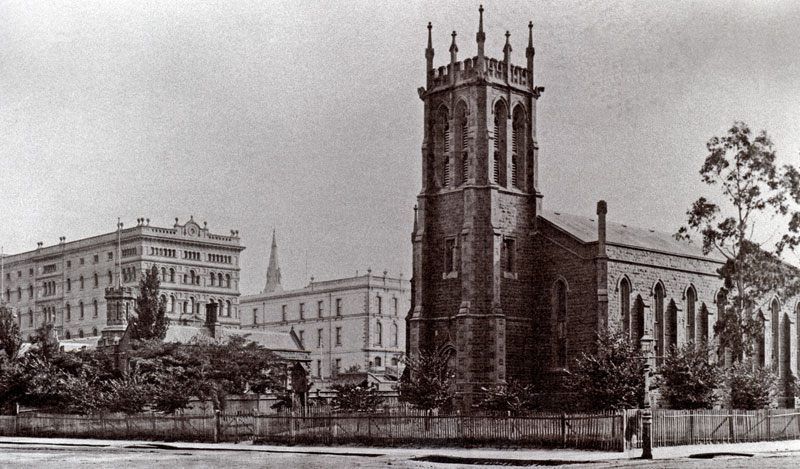 St. Paul's Cathedral before Spires.
After Spires were added.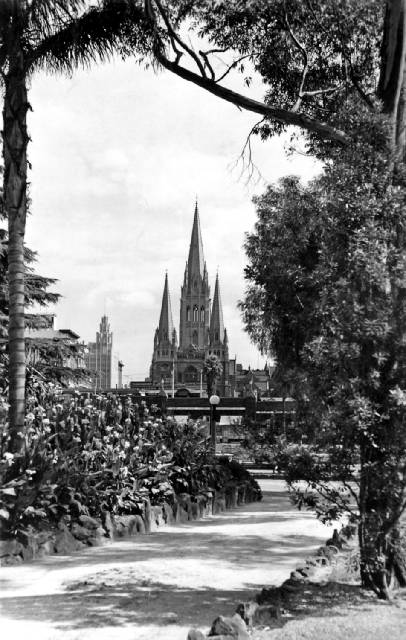 Above, William Butterfield's 1878 original more primitive gothic design for St Paul's towers that were never built and below for comparison,
the spires we did get, designed by James Barr and built between 1926 and 1931.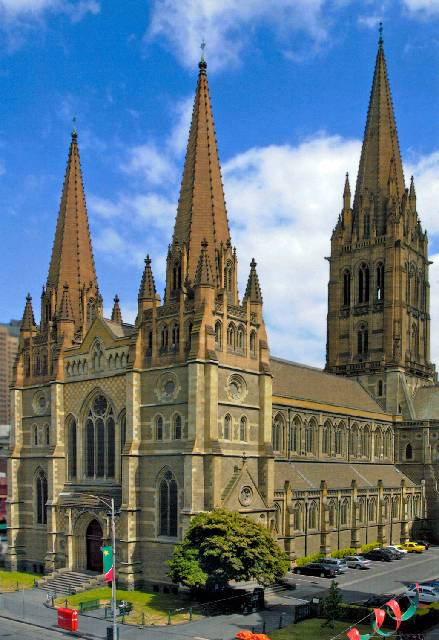 The interior.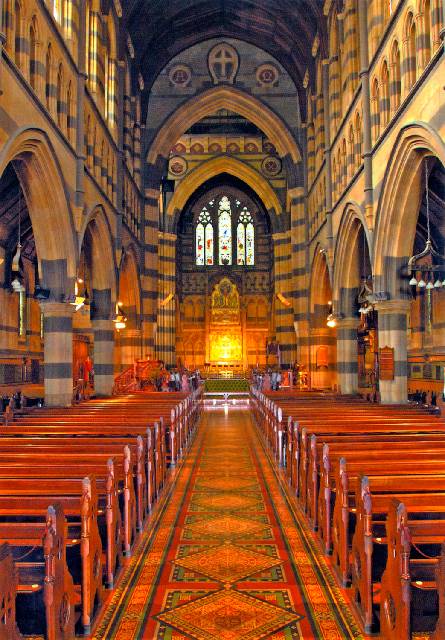 Spire at night.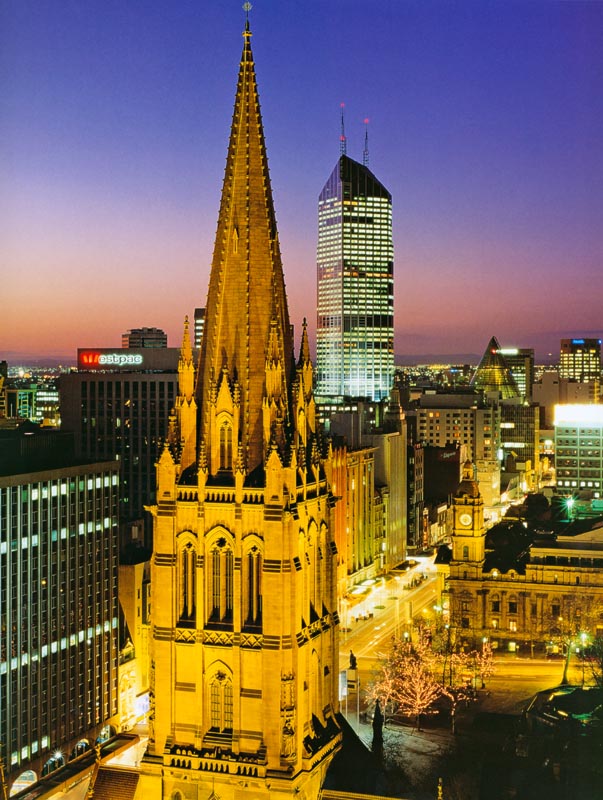 Lastly, two of my own photographs, the spire and looking south from the north-east corner of Collins and Swanston Streets.