Peter Maltezos
wrote on Sat, 03/08/2013 - 08:55
Text from Melbourne Architecture
St. Patrick's Cathedral
5 Gisborne Street, Melbourne
Architects: 1858–1869 William Wardell (nave and aisles);
1860-97 William Wardell (transepts, sanctuary, chapels and sacristy);
1936-40 WP Conolly and GW Vanheems (three spires & west porch remodeling);
1989-96 Falkinger Andronas P/L (restoration)
One of the world's largest Gothic Revival churches, St Patrick's Cathedral is also the finest work of architect William Wilkinson Wardell (1823-1899) and one of his earliest commissions on arrival in Australia in 1858.
Having sold his practice and emigrated to Australia's warmer climate for health reasons, Wardell had quickly gained two prestigious commissions: St Patrick's Cathedral and St John's College, Sydney (1859-1935).At the same time, he won the position of inspector–clerk of Public works in 1859, and then the next year was promoted to Inspector-General with rights to private practice.
London-born, Wardell, a Roman Catholic since 1843, had already completed 30 churches in England between 1846 and 1858, and it is almost certain that he would have come under the sway of Augustus Welby Northmore Pugin, the great Catholic promoter of Gothic Revival architecture in England.
It is not surprising that he should have been encouraged by James Goold, Roman Catholic Archbishop of Melbourne, to propose colossal plans for the third St Patrick's Church on its elevated site in East Melbourne.
St Patrick's Cathedral was completed over 80 years from 1858 until 1940. It is the largest church building in Victoria and the centre of the Roman Catholic Church in the state.
The nave and aisles followed an English Gothic idiom, while transepts, sanctuary, chapels and sacristry were based on the 14th-century French models such as Amiens and Rouen cathedrals.
It is this latter influence which gives the cathedral its dramatic east end of apsidal chevet chapels, while internally the spatial flow of the ambulatory, chapels and sanctuary is masterful.
Outside flying buttresses and large windows with geometric tracery relieve the mighty walls of Footscray bluestone. Almost all the stained glass was supplied by Hardman of Birmingham.
The three reinforced concrete spires faced in stone (revisions of Wardell's original designs and taller by 27 m) were added between 1936 and 1940, rising above Parliament House in Bourke Street and terminating the axis of Brunswick Street, Fitzroy.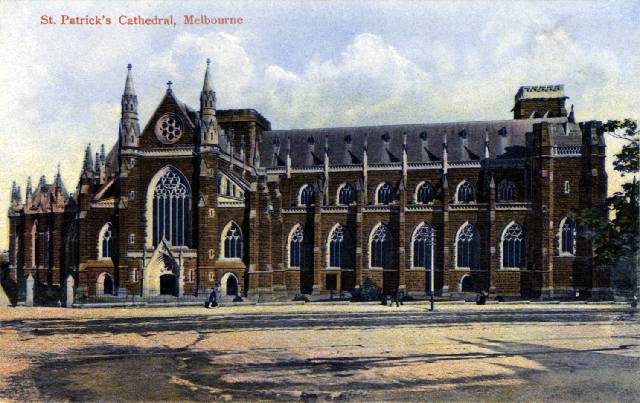 Above and below, before spires.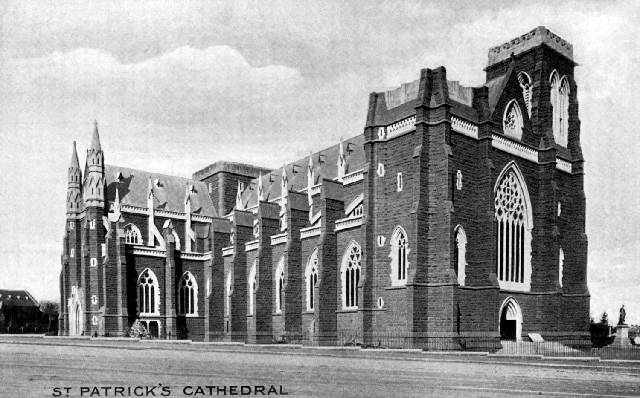 After spires were added.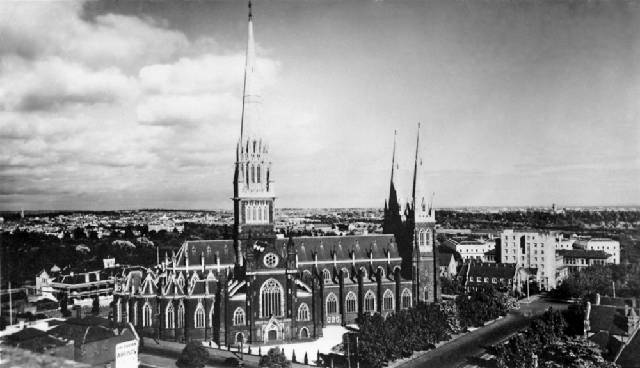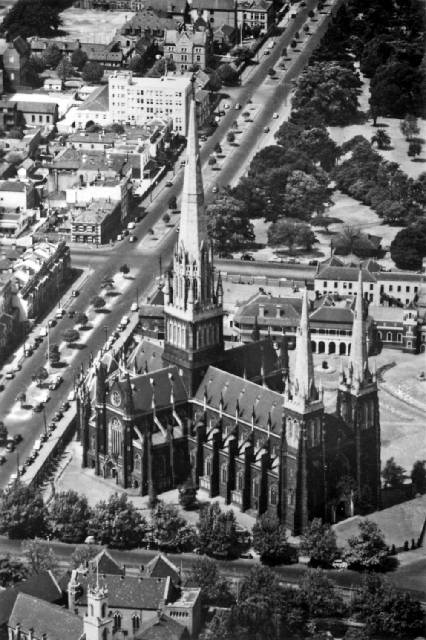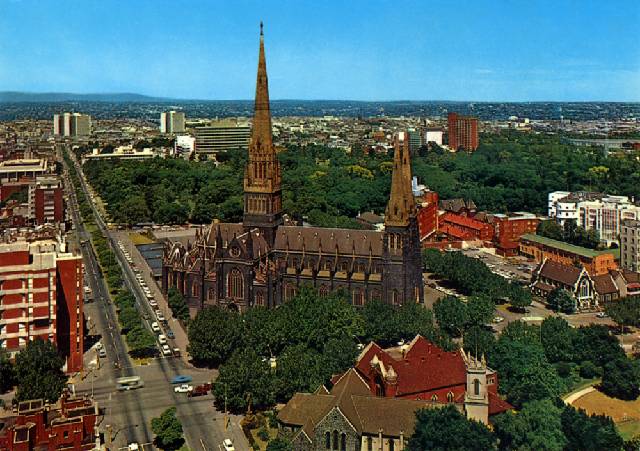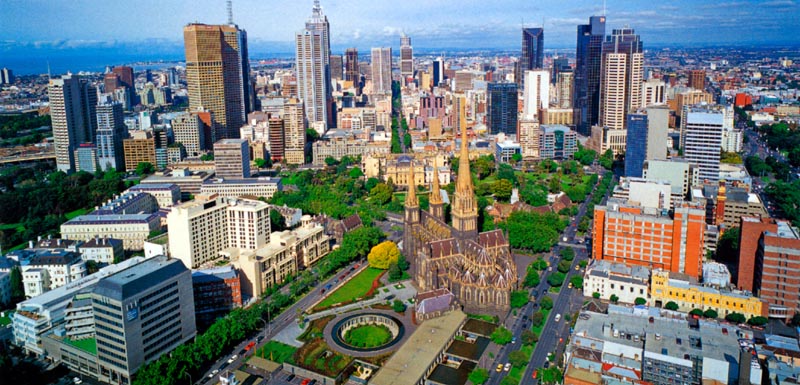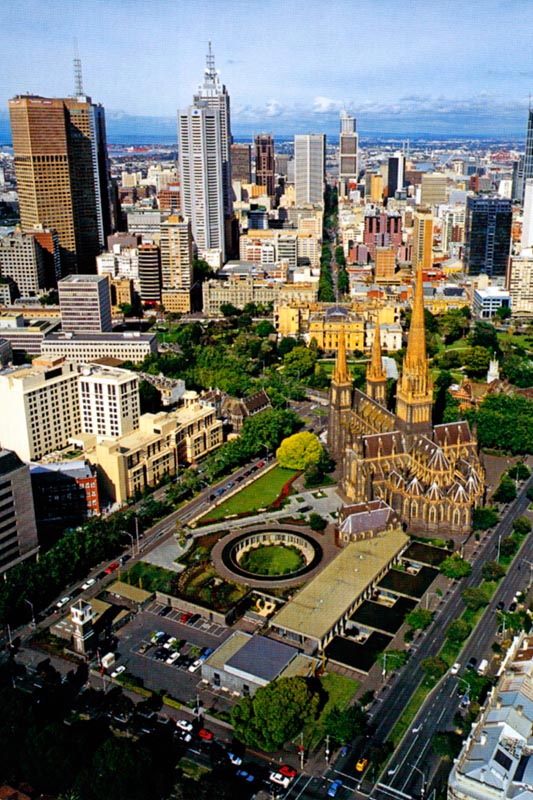 Below, my own photographs of the mighty St. Pat's.