Peter Maltezos
wrote on Mon, 30/09/2013 - 22:49
http://en.wikipedia.org/wiki/Sidney_Myer_Music_Bowl
Sidney Myer Music Bowl
Kings Domain
The Sidney Myer Music Bowl is an outdoor performance venue in Melbourne, Victoria, Australia. It is located in the gentle undulating lawns and gardens of Kings Domain, quite close to the Victorian Arts Centre and the Southbank entertainment precinct. It was officially opened by Prime Minister Robert Menzies on February 12, 1959 with an audience of some 30,000 people.
The Sidney Myer Music Bowl is listed on the Victorian Heritage Register.
Set in the Kings Domain Gardens this hugely popular summertime venue hosts everything from Summerdayze to the surf grooves of Jack Johnson, from the rock of Pearl Jam to the sounds of Dame Kiri Te Kanawa to the vibe of The Asian Dub Foundation.
It is also home to Carols by Candlelight and MSO's free summertime concert series.
Design and construction
The Bowl's canopy consists of a thin membrane made out of half an inch weather-proofed plywood sheeted on both sides with aluminium attached to a cobwebbed frame of steel cables and supported by 21.3 metre masts pivoted to the earth. The total area of the canopy is 4055 square metres. The main cable at the edge of the canopy comprises 7 ropes, each about 9 cm in diameter and 173 metres long, anchored deep into the ground in concrete blocks. Longitudinal cables hold up the roof and transverse cables hold it down.
Project design was by Yuncken Freeman Architects and Griffiths and Simpson during 1956. The project architect was Barry Patten. Construction commenced in 1958 with an innovative system of cables laced together and covered with aluminium faced plywood sandwich panels. To ensure the structure would be watertight yet aerodynamically stable and flexible, new construction techniques were developed. Ground anchors were required to be corrosion resistant. The shell also needed to be acoustically correct. Construction entailed input from a number of engineering and scientific organisations including the Aeronautical Research Laboratories and CSIRO Forest Products Division.
Unlike the Hollywood Bowl concrete shell structure in Los Angeles which inspired it, the Sidney Myer Music Bowl combined a tensile structural system with a free-form roof. The structural design predates by nearly ten years noted German architect/engineer, Frei Otto, and his experiments in using lightweight tensile and membrane structures. Frei Otto's design of Munich's acclaimed Olympic Park for the 1972 Olympics, and the temporary West German pavilion at the 1967 World's Fair in Montreal, Canada, were heavily influenced by Patten's design of Melbourne's Myer Music Bowl.
Postcard of Sidney Myer Music Bowl built in 1958-59 commanding an elevated site in Kings Domain.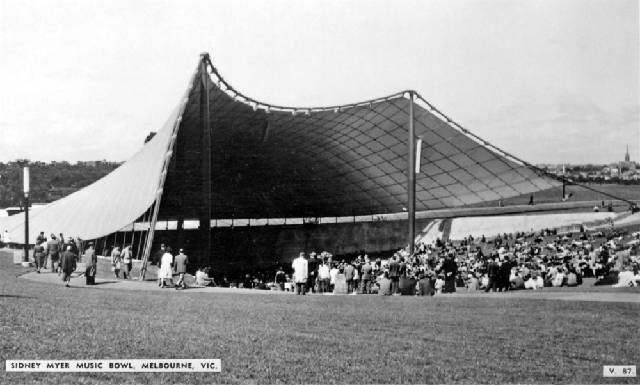 Photo by Ee Leng Chang.
Another recent photograph from thatsmelbourne.com.au