Peter Maltezos
wrote on Sun, 31/03/2013 - 11:55
Royal Exhibition Building
From Walking Melbourne
The National Trust guide to the historic and architectural landmarks of central Melbourne
This is Australia's first World Heritage listed building, added in 2004 because it is one of the most important survivors of the great exhibitions of the 19th century. Built for an International Exhibition in 1880, the main hall, with a dome reminiscent of Florence Cathedral, is the oldest such hall, and the only one built for industrial goods remaining in the world. Designed by Joseph Reed and Partner Barnes, the Hall and the gardens are all that remain of a vast complex of permanent and temporary annexes that once extended far to the north.
A second, much larger Centennial Exhibition was held  in 1888, and the first Australian Federal Parliament was inaugurated here with much ceremony in 1901. Since then the buildings have managed to maintain a central role in Melbourne life, surviving calls to demolish it as a 'white elephant'.
The western annexe housed State Parliament from 1901-1927 (while federal Parliament occupied Parliament House), and later the Motor Registration Board.
The Eastern Annexe housed a ballroom, a war museum, and an aquarium, while the space between the annexes was occupied by a velodrome and sports oval, used for St. Patrick's day fairs, then a WWII Army Barracks, later re-used as a migrant camp.
The main building hosted 'monster' balls, concerts, and fetes up to WWI, was used as a hospital during the 1919 influenza epidemic, and after WWII was home to ever popular Home, Car and Boat Shows (and High School exams).
It is now part of the Museum of Victoria. Unattractive extensions of the 1950s/60s that had replaced the earlier annexes were demolished in 1999, and the spectacular interior repainted in the ornate 1901 colour scheme.
It continues to host trade, art and flower shows, conferences and parties.
The gardens, flanking the building to the north and south, with their grand tree-lined leading, were designed to complement it, and include notable elements such as the fabulous Hochgurtel Fountain at the south entrance, and the French Fountain and Westgarth Drinking Fountain at the east.
The Royal Exhibition Building in all its splendour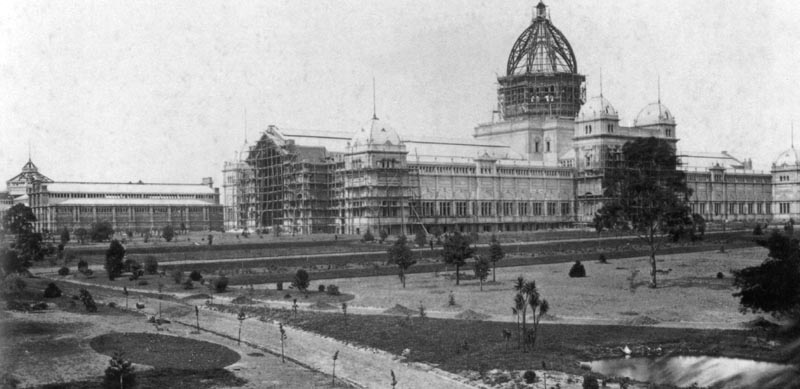 Under construction.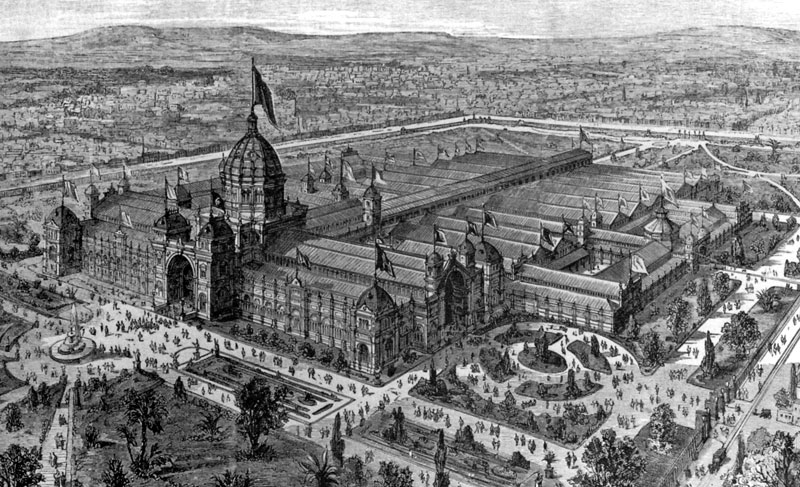 Drawing of REB with all its annexes. How it would have looked in 1888.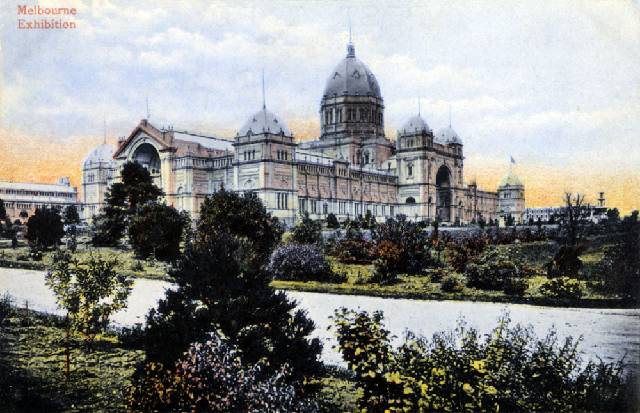 Edwardian postcard of REB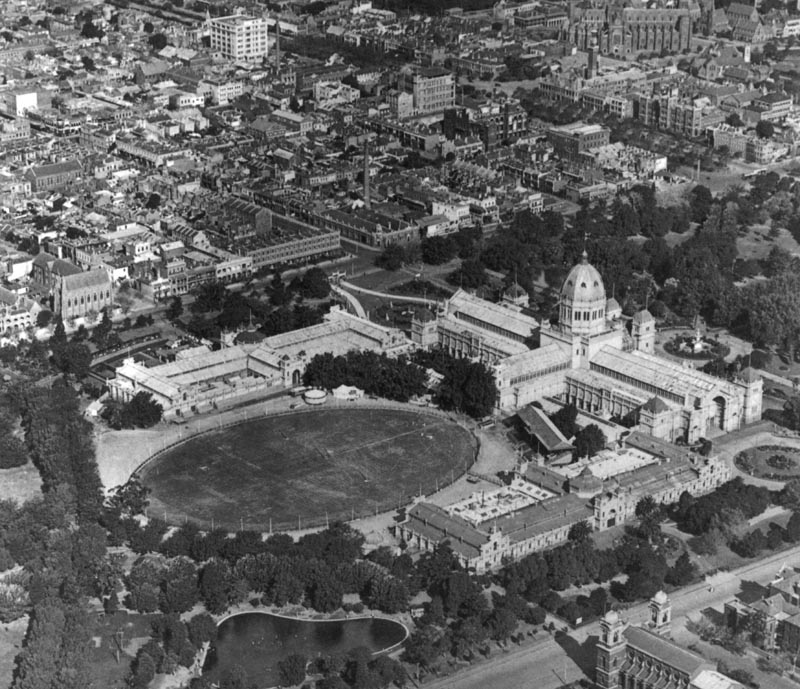 Aerial of REB and Carlton Gardens showing former oval.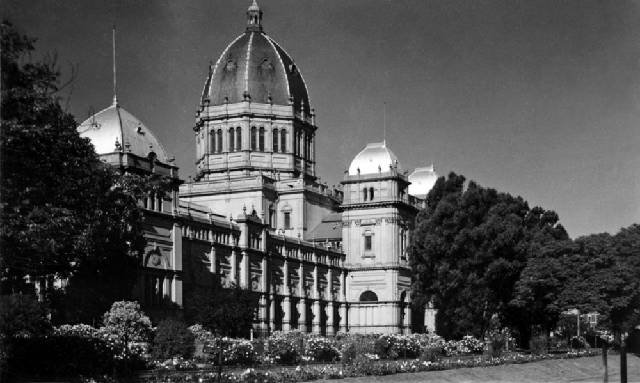 The Royal Exhibition Building ~ 1940s.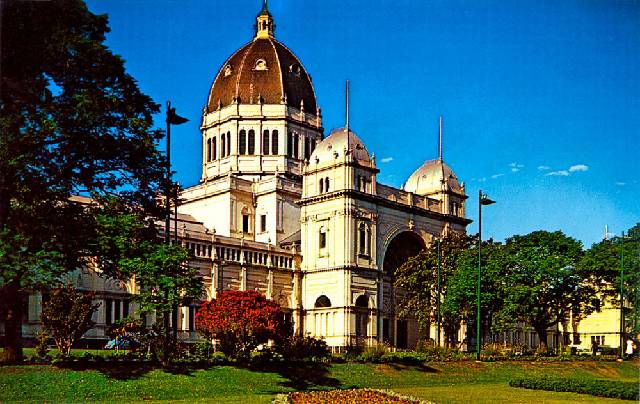 Another postcard of The Royal Exhibition Building ~ 1960s.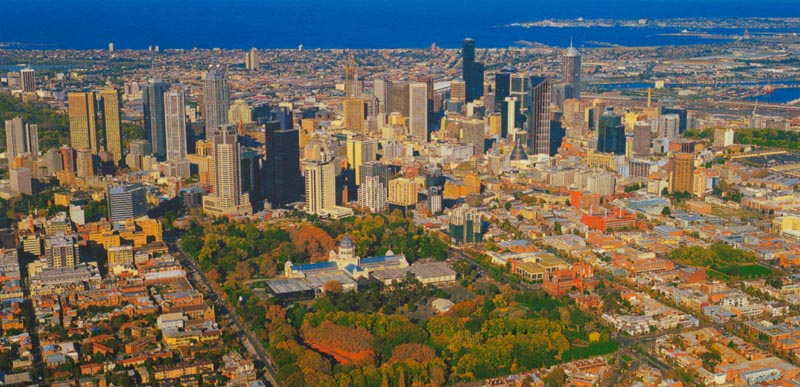 REB with annexes from 1960s and 1980s before removal to clear land for new museum and restoration of north side of the REB.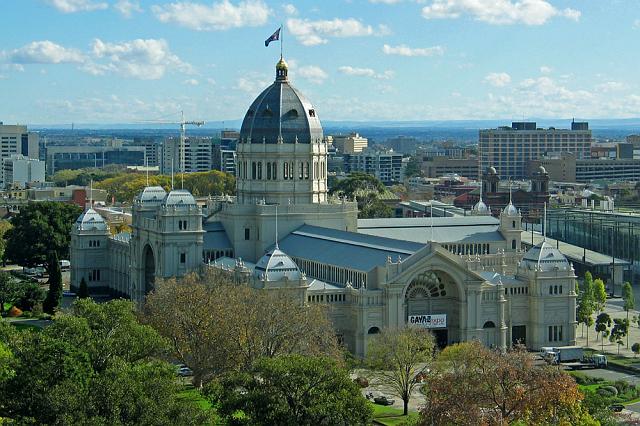 A recent photograph I've taken of the REB.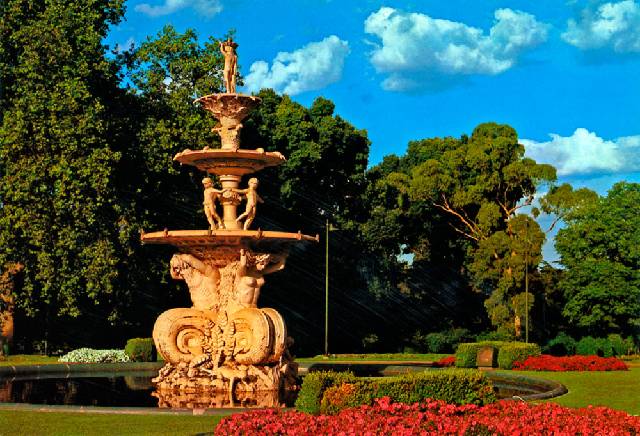 The fountain at the southern entrance of The Royal Exhibition Building is known as 'The Hochgurtel Fountain' after its creator.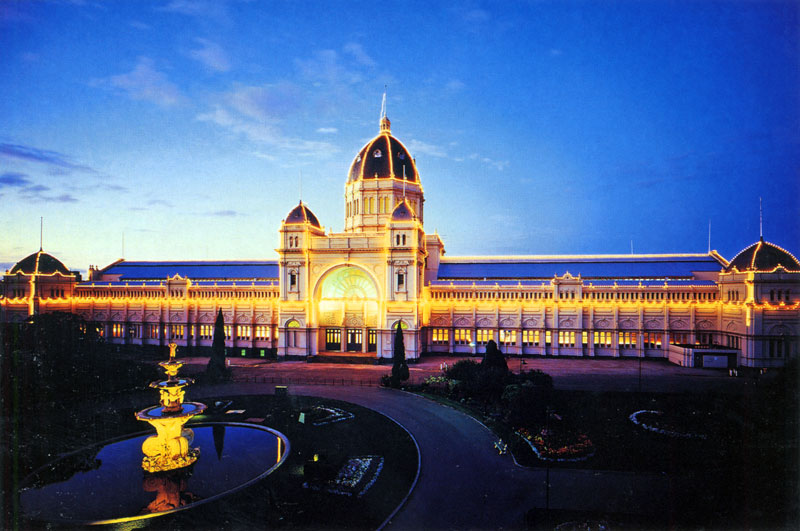 Recent postcard of REB at night.
The breathtaking interior of The Royal Exhibition Building.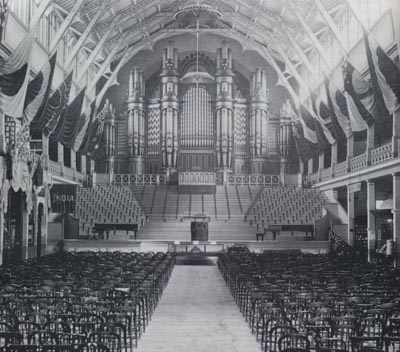 Old photograph of interior with former organ.