Peter Maltezos
wrote on Sun, 05/02/2017 - 20:53
Portuguese version of Melbourne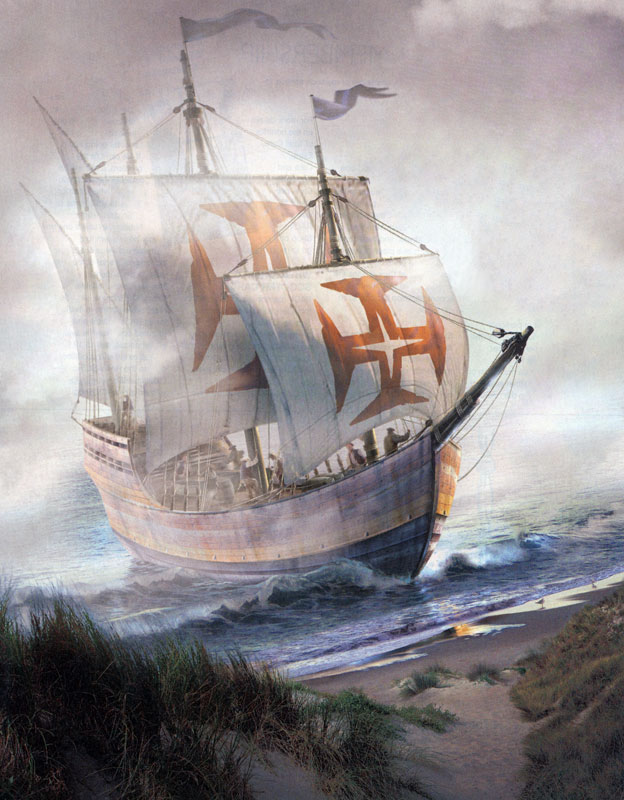 Some of you may have heard about the sixteenth century Portuguese caravel (mahogany ship) that may be lying under some seven metres of sand west of Warrnambool.
The story is that in 1836 two sealers came across the hull of a vessel on the beach on their way to Port Fairy. The wreck was reported and investigated by the Port Fairy harbour master, Captain Mills, who noted its design as being antiquated and its timber as being dark like mahogany. There was no record of a missing ship in the area and the aboriginal people of the region said the wreck had always been there. In 1880 storm-driven sands covered the mysterious hull.
Some say that it's a Portuguese caravel lost in 1522 from a flotilla of three under the command of Cristovao De Mendonca. The Dauphin map produced in the sixteenth century by French cartographers and believed to be based on information gathered by Mendonca's expedition, could support this theory. It bears a resemblance to the coast of southern Australia, stopping abruptly in the vicinity of Warrnambool.
Was Mendonca forced to turn back because he lost his ship? There is little doubt that a wreck in the sandhills was visible for several decades in the mid-nineteenth century, yet none of the many attempts to relocate it has been successful, the mystery remains.
History may yet be rewritten, New Holland may have become New Portugal!
Anyway it was this story that came to mind when a friend sent me this postcard below of a tram in Lisbon. To my amusement the destination in the front of the tram reads in Portuguese 'Colinas de Lisboa'. Now I don't speak the language, but I let my mind imagine it read 'Collins St New Lisbon' and that this scene could also have been what Collins Street in Melbourne (Novo Lisboa) may have looked like if the Portuguese had founded it instead of Anglo Australians!