Peter Maltezos
wrote on Sat, 06/04/2013 - 10:29
Text mainly from Melbourne Architecture
Philip Goad
NGV International
St Kilda Road
1959-68 Roy Grounds
1999-2003 Mario Bellini and Metier III
Roy Ground's National Gallery of Victoria (as it was known then) has been a locus for controversy ever since its commissioning. The project caused the 1962 split between Grounds and his erstwhile partners Robin Boyd and Frederick Romberg. At the gallery's opening in August 1968, architectural critics alternately savaged and praised this bluestone treasure house. Much of the controversy has to do with Ground's quixotic and arguably brilliant design-a giant Oriental palazzo with a geometric plan, a city block in length, and with three square courtyards inside.
On a 1960 trip to Europe and the United States with NGV Director Eric Westbrook, Grounds was inspired by the 18th-century Palazzo di Capodimonte outside Naples and the medieval Castello Sforzesco, Milan. Grounds was also keen to use a local stone and took the NGV Buildings Committee to look at the bluestone walls and great arch of the old Melbourne Gaol (a gesture ironically echoed in Premier Sir Henry Bolte's opening speech, when he praised the gallery as a perfect place for 'hanging').
Ground's design was like a renovated neo-classical  palazzo/castle sitting in a moat, but with Oriental overtones, especially given the floating roof and its upturned eaves, the timber gridded ceilings and the Bamboo Courtyard with its fountains, black bamboo and bluestone pebbles, which was designed to relate directly to the collection of Oriental art encircling the courtyard. Other original features of the NGV include the state's coat of arms above the Richardsonian entry arch designed by Norma Redpath; the waterwall, long derided as a fishmonger's window, but loved for decades by the Victorian public; the circular lift within its bush hammered concrete core; the Victorian ash paneling in the galleries and foyer; and the Great Hall where Leonard French's stained-glass ceiling, thought to be the largest in the world, is the baronial climax to this eclectic masterwork of the late Sir Roy Grounds (1905-1981).
In 1999 Mario Bellini and local firm Metier III designed alterations and additions to create more exhibition space. When the renamed NGV International opened in 2003, two of the courtyards were filled in, among many changes. The art collection was also split between international and Australian, with the Australian art moved to a new purpose built gallery, NGV Australia at Federation Square.
Open 10am-5pm, closed Tuesdays, except public holidays.
The website:
Part render, part photograph of NGV International, in the foreground and Federation Square to the right, across the river where NGV Australia is located.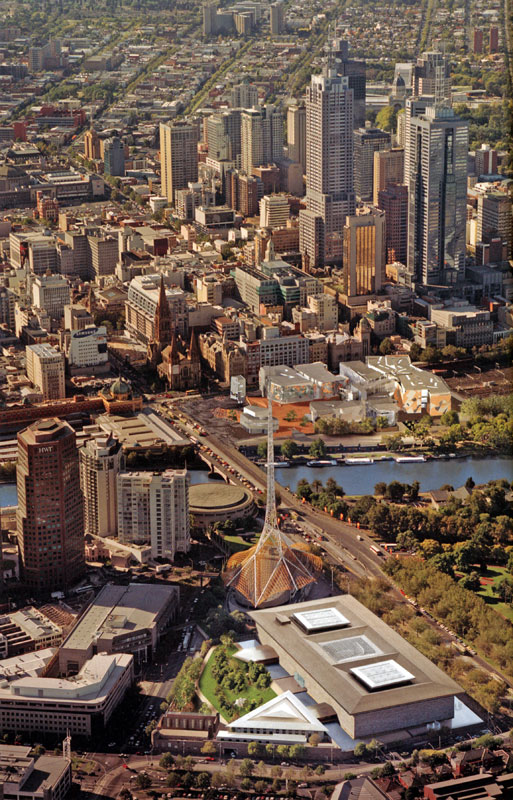 Six of my own photographs.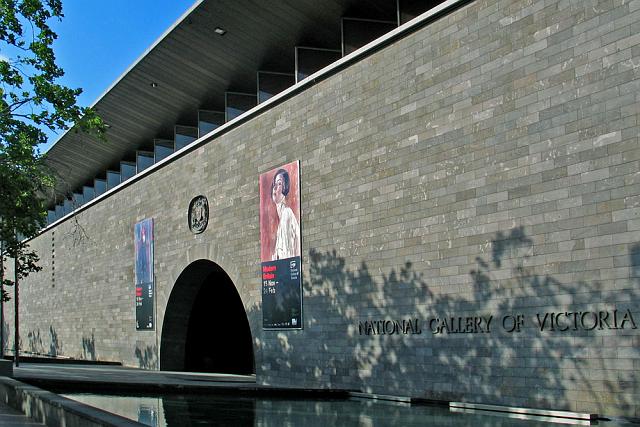 Federation Court showing ticketing area and escalator.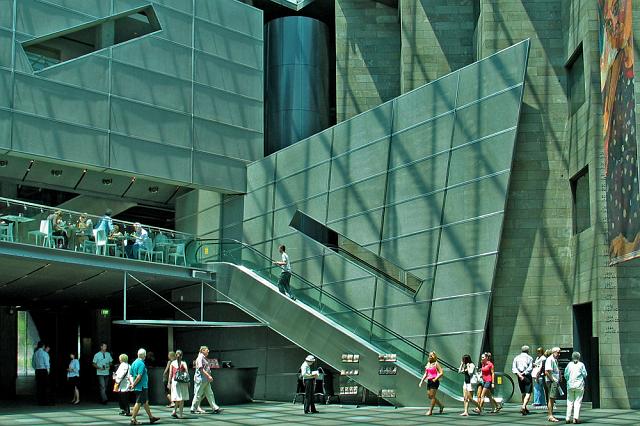 Next two, the Great Hall showing Leonard French ceiling.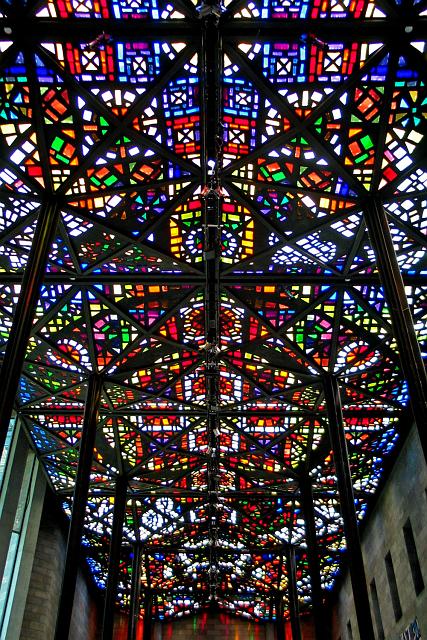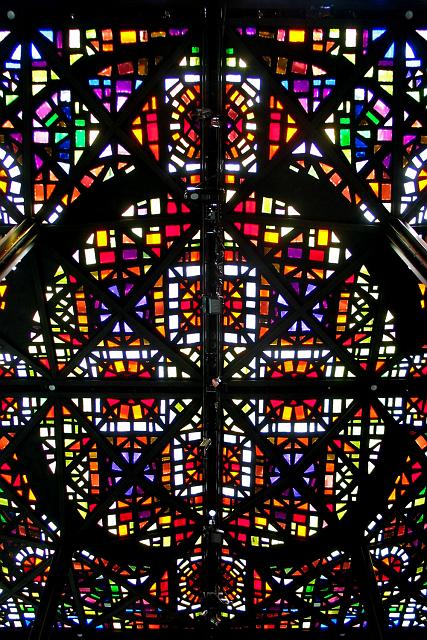 Next two, the Sculpture Garden.