Alastair Taylor
wrote on Wed, 12/02/2014 - 10:50
http://www.nzherald.co.nz/business/news/article.cfm?c_id=3&objectid=1120...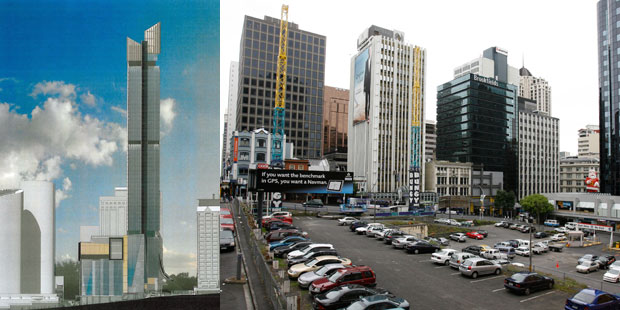 Plans for New Zealand's tallest skyscaper, to rise in the heart of Auckland, have been unveiled today.
A $350 million 52-level 209m skyscraper has been announced for a CBD site left vacant since the 1980s when Chase Corporation demolished the Royal International Hotel.
Chinese developer New Development Group is to build the tower, known now as NDG Auckland Centre, on the site of a carpark and bungy jump bounded by Elliot St, Albert St and Victoria St.
Auckland Council has granted resource consent for the giant which will only be dwarfed by the 328m Sky Tower. A building consent is still pending.
Mayor Len Brown announced details of the tower to the Herald this morning, saying it would be a huge transformation for the city.
"Alongside the Sky Tower, this will be a world class development for Auckland that will create hundreds of new jobs, energise the CBD and boost Auckland's GDP, through a more than $350 million investment by NDG," Brown said.
"It's also an example of the major commercial opportunities created by the City Rail Link project. To date the private sector has confirmed more than a billion dollars of new investments along the proposed route, including Precinct Properties' downtown retail and office development ($300m+) the NZ International Convention Centre ($400m+) and Elliott Towers ($350m+)," he said.