Peter Maltezos
wrote on Wed, 31/07/2013 - 08:17
Text from Melbourne Architecture
Missions to Seamen
717 Flinders Street
1916-17 Walter Butler
One of the earliest examples of Spanish-influenced design in Melbourne, Walter Butler's Missions to Seamen is an intriguing architectural experiment in Arts and Crafts style combined with a somewhat bizarre choice of form, particularly in the stupa-like form of the gymnasium. Built of brick and rendered in rough-cast concrete, the chapel tower and bell turret, courtyard and cloister evoke elements of the Spanish Missions architecture of California. The building houses many elements which are the result of charitable works and donations, such as the marble mosaic compass rose in the entrance hall and the chapel itself, funds for which were raised by the ladies of the Harbour Lights Guild to commemorate British and Australian seamen who lost their lives during World War I. The pulpit in the chapel is a reconstruction of the stern of a sailing ship. It even has a stern-castle and rudder. There are a variety of spaces within the building: a main hall with a vaulted ceiling of reinforced concrete, a lecture hall (now the Celia Little Lounge) and upstairs, a self-contained two-storey house for the chaplain and facilities for the officers who were not expected to mix with the seamen.
There was a dance hall, which was turned into a dormitory during World War II, then later converted to a cinema. The domed gymnasium, intended to alleviate the effects of crowded living conditions on ships, was named the Norla Gymnasium (1920) in honour of Sir Simon and Lady Fraser, generous supporters of the missions. Today, only the staples in the domed roof remain as reminders of the ladders, climbing ropes and trapezes that once hung in this unusual space.
An old postcard showing the main hall.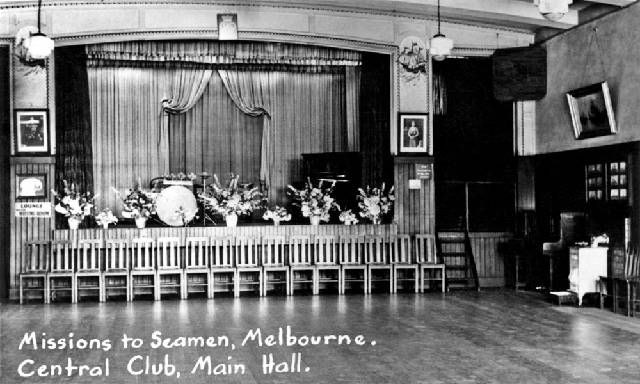 Three shots of my own.