Peter Maltezos
wrote on Sun, 21/07/2013 - 09:59
Melbourne Central
Block of Swanston, Latrobe, Elizabeth and Lt Lonsdale Streets.
1988-1991
Kisho Kurokawa, Bates, Smart & McCutcheon, Hassel Pty. Ltd
Recent Renovations by ARM
The office tower follows the concept of skyscraper design as a "Crystal Cut" volume. Within the smooth shape, the facades are a composition of heterogeneous materials, such as stone, aluminum panel, reflective glass and tinted glass. At the top of the tower, high-technology communication equipment is visible. The lower part of the building is more traditional in design. The facade represents a transition, from the solid city building at the base, which slowly evaporates towards the sky. The basic concept of Melbourne Central consists of the four following targets:
• The Symbiosis of History and the Present.
The existing shot tower located on the redevelopment site is not necessarily important from the architectural point of view. It is, however, an important landmark with which the citizens of Melbourne are familiar. This historical testimony is enclosed in the conic glass atrium. It is important to preserve historical buildings while making the most of them in the present town.
• The Crystal Cut Office Tower.
The form of the high-rise crystal cut office tower has the same concept with the Central Plaza in Brisbane. The mullion pattern on the facade is introduced to avoid the uniformity.
•Abstraction or Pure Geometry.
One of the methods to create multivalent and ambivalent architecture is to quote fragments of historical symbols. The other method is to quote abstract forms, which are the achievements of modern architecture and modern art. Abstraction can be freely interpreted, to produce multivalent meaning. In this project, various abstract forms are quoted, such as rectangle, cone, inverted-cone (concave conically-shaped cut-out in the facade), and sphere (dome).
•The Symbiosis of Various Functions.
The contemporary city has lost vitality, which was produced by overlaying and compounding various functions. Melbourne Central is aiming at the complex that vitalizes a city.
__________________________________________________________________________
Melbourne Central has recently undergone major renovations at the podium level, with the number of shops increasing, the opening up and inclusion of laneways, more light penetration, the introduction of a cinema complex and the removal of a department store.
__________________________________________________________________________
The future site of Melbourne Central, August 1961, before demolition to make way for Melbourne's underground rail loop.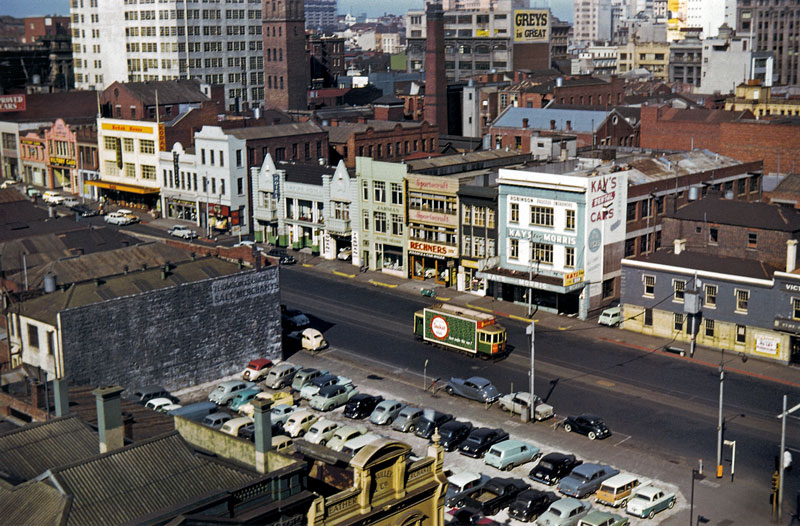 The old Museum Station (Swanston Street end), before its name change and demolition to make way for Melbourne Central.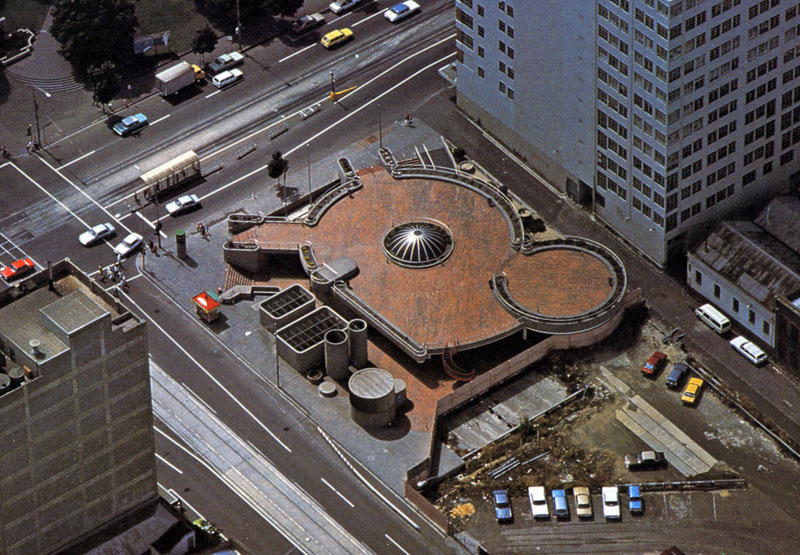 A postcard highlighting the original Melbourne Central.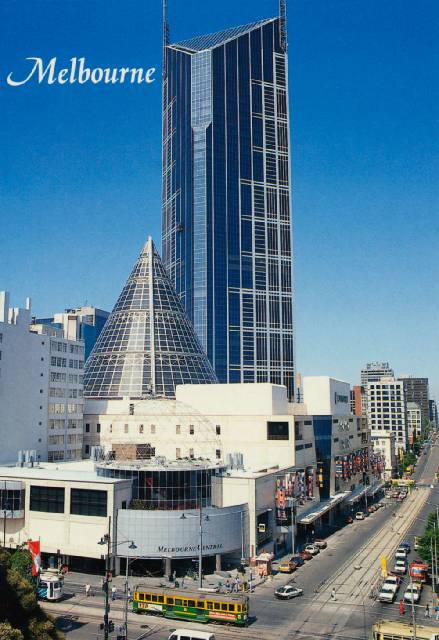 The way it used to be inside the cone.
I wonder what happened to the props (biplane and balloon)?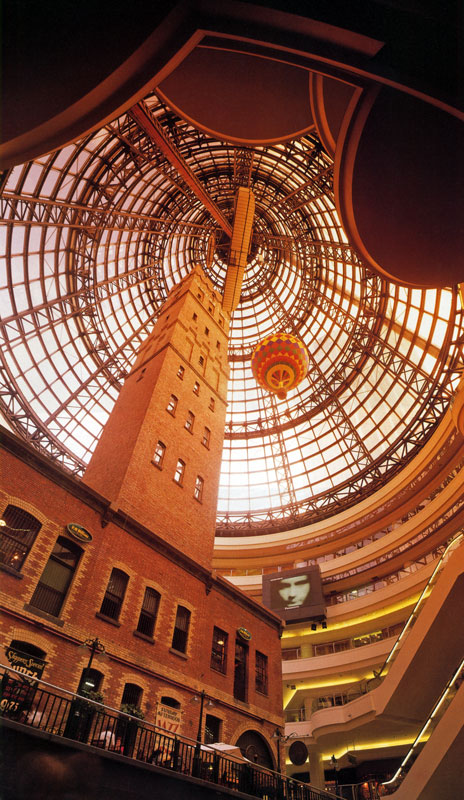 The dome, the cone and the crystal.
The dome is now gone.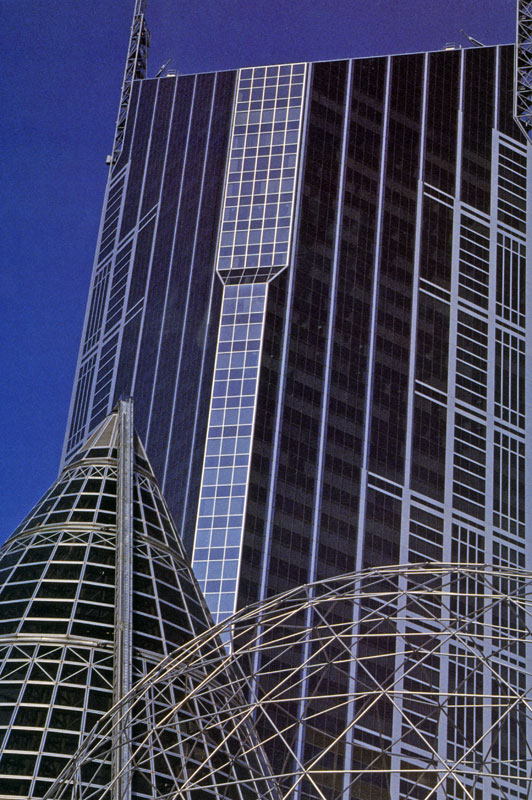 Melbourne Central has since undergone some major renovations at ground level, gone is the purity of Kurokowa's modern design to be replaced by ARMs more eclectic pop bent.
Below are recent photographs I've taken of Melbourne Central's new look.