Peter Maltezos
wrote on Thu, 03/10/2013 - 22:26
Text by Chris Beck
Melbourne Arts Centre Spire
Architect: Sir Roy Grounds
Facts:  As with a church steeple or spire, the purpose of the Arts Centre Spire is symbolic, providing a visual feature and signpost for the entire complex.
Sir Roy Grounds' 115-metre space frame design included spectacular gold webbing around its lower section, stimulating the folds of a ballerina's tutu. As a result of increasing structural deterioration of the original upper spire structure, with cracks discovered in four of its 12 largest stainless steel nodes, the centre trust's engineering advisers recommended the upper spire be replaced.
Completed on January12, 1996, the new spire reaches 162 metres above St Kilda Road with a 10-metre mast at its peak.
The spire, with the capacity to create images that will glow, sparkle and twinkle, has 6600 metres of fibre optic tubing, 17,700 metres of power and control cables, 14,000 incandescent lamps, 150 metres of neon tubing on the mast alone, 496 computer control devices to manipulate the colours and movement of the lights, and 900 power and control plugs.
Verdict of Melbourne writer Andrew Masterson:  "Forget the Sydney Opera House. The true symbol of Australian performing arts is that tubular, yellow, vaguely Parision, vaguely phallic thing that perches atop our Arts Centre. Far from the jerry-built embarrassment that some are wont to describe, it is, in fact, a carefully blended mix of symbolism that, when seen from the correct perspective, amounts to a triumphant expression of Victorian artistic endeavour."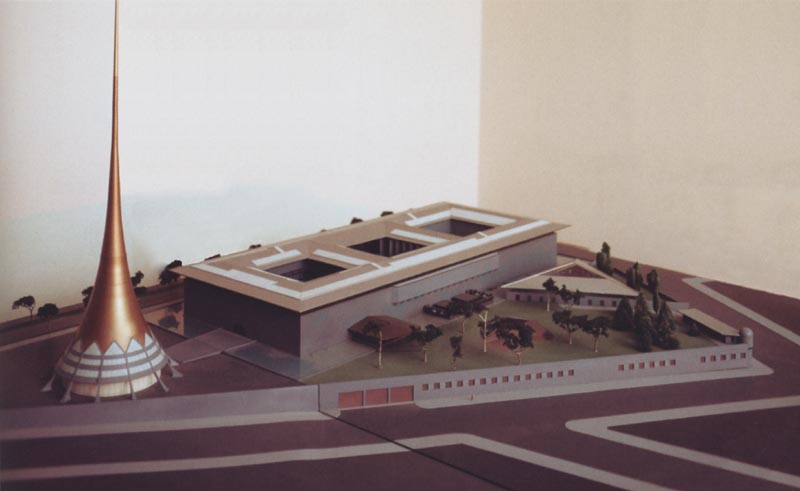 Model of copper sheathed spire above.
What we see here is Roy Ground's soaring copper centerpiece as it was meant to be and below, the poster used to promote donations for it.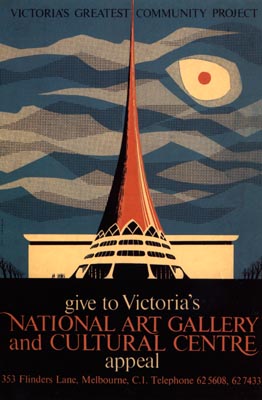 Below is the truncated version of the spire that was erected in the 1980s.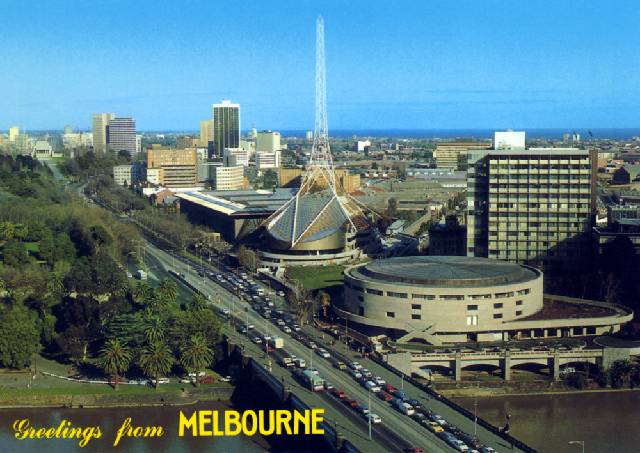 How it looks today.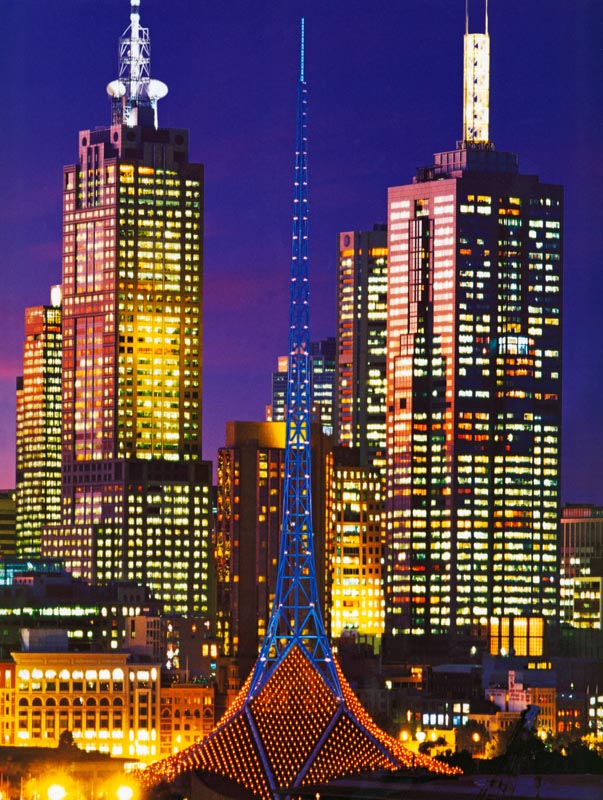 Six shots of my own.