Peter Maltezos
wrote on Thu, 25/04/2013 - 10:19
Main text from Melbourne Architecture
Hero Apartments
(former Russell Street Telephone Exchange and Post Office)
114-120 Russell Street, north-east corner of Russell and Little Collins Streets
1948-54 Commonwealth Dept. of Works
Hammond and Allan (bas-relief sculpture)
1999 Nondas Katsalidis (Hero Apartments conversion)
The first postwar government building of any size completed after 1945, the Russell Street Telephone Exchange and Post Office marks a crucial stylistic shift between pre- and postwar attitudes to the metropolitan public building. Construction took five years, with the result that its interlocking cubic design, projecting glazed panels and cream brick appeared dated when it was finally completed in 1954. Another exchange at 378 Flinders Lane (1952-54) follows a similar compositional palette. Unusually, the Russell Street building combined a postal hall at ground level, the interior design of which echoed 1930s Italian Modernism. A dashing striped floor and outside smart metal grill work, stainless steel telephone booths (since removed), three massive pink granite stylized Doric columns and bas-relief sculpture mounted on the cream brick wall above the footpath were mannered ornamental inclusions beneath large first- and second-floor glazed panels that, in functionalist fashion, revealed the machinery of the exchange within. As the exchange is located on Russell Hill, in 1956 the building gained special status by briefly serving as a relay station for newly arrived television.
In 1999 the building was converted into boutique apartments with retail at ground and basement levels.
How it used to look soon after the original building was completed.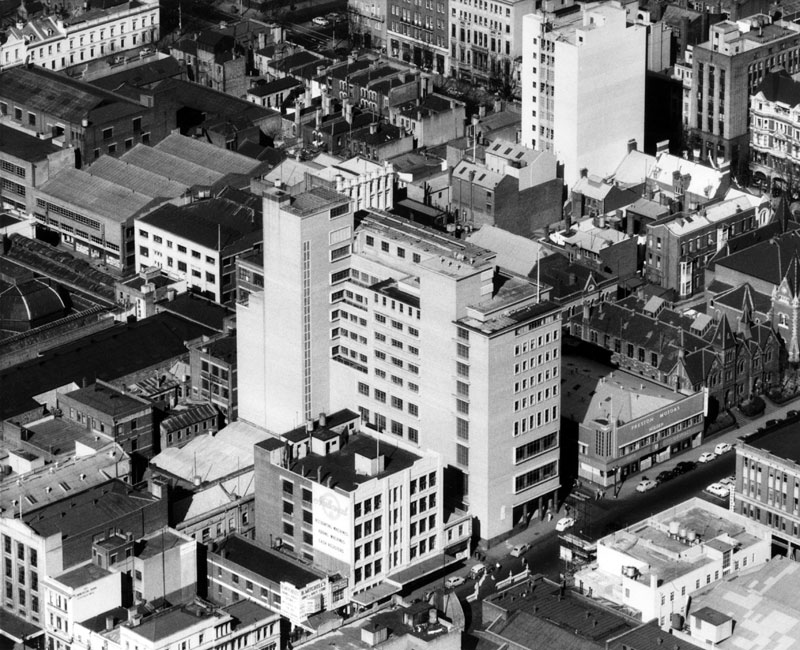 Below, my own shots showing the new boutique apartments conversion.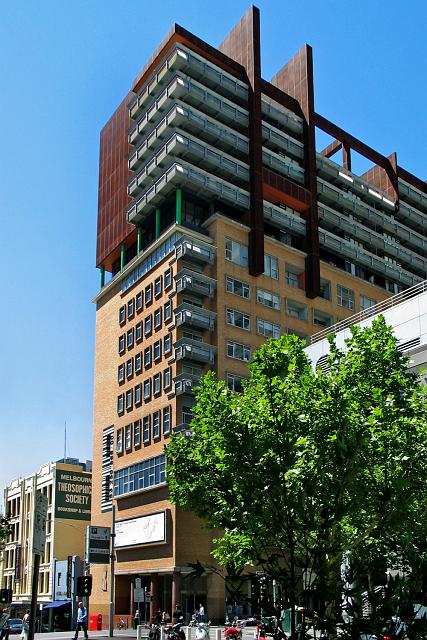 Love the corten steel used in the new upper levels.