Peter Maltezos
wrote on Sat, 01/06/2013 - 10:05
Text from Melbourne Architecture
Former GJ Coles Stores (now David Jones)
299-307 Bourke Street
1928 Harry Norris; 1938-40 Harry Norris;
1984 Bates Smart McCutcheon (conversion to David Jones)
Built on the site of EW Cole's book arcade, the new Coles Store was one of a series of department stores and warehouses across Victoria which architect Harry Norris designed for the retail giant. The arched façade was clad in a striking pinkish-red faience and the decorative Hispanic/Indian/Jazz details of chevrons and sunbursts in yellow, orange, green and black suggested infuence from Mexico or Southern California. In 1938, an extension was added continuing these themes. One of the interior highlights was the first-floor Coles Cafeteria, a Streamlined and Jazz Moderne destination for lunch on the run. Today, the workday shopping aisles have been replaced by the black glass and marble, and upmarket swish of the David Jones department store. Vestiges of the building's more humble commercial origins can still be seen in wall and column tiling and plaster column capitals.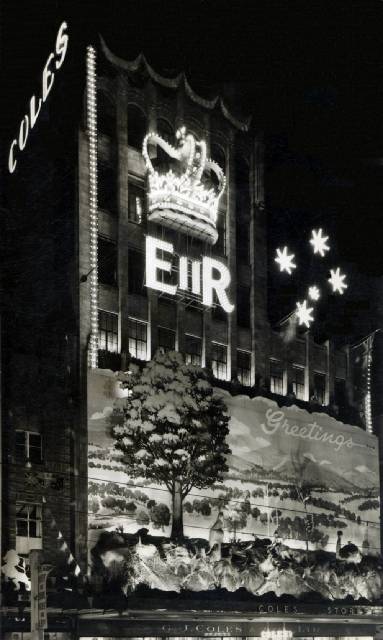 In the postcard above we see Coles decorated for the 1954 Royal Visit, and below in one of my own photographs as it is today, David Jones.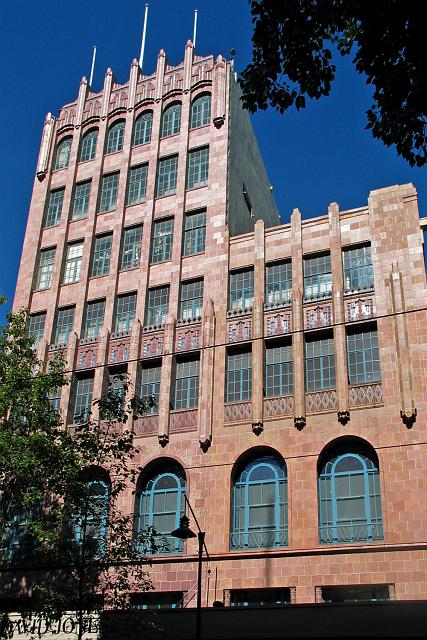 Below, one can see what used to be on the Coles site, Cole's Book Arcade, second from left.