Peter Maltezos
wrote on Mon, 13/05/2013 - 08:09
Main information from George Nipper, from Walking Melbourne.
Former Chevron Hotel (Chevron Green Apartments)
South-eastern corner of St Kilda and Comercial Roads
1934 Leslie Perrott
The Chevron Hotel with its prominent corner tower was completed in a record 18 weeks in 1934 (including demolition and clearing of the site) by E.A. Watts to a design by well-known architect Leslie M. Perrott, also the architect for the Alexander (now Savoy) Hotel in Spencer Street.
The Chevron was a development of the original two-storey brick guest-house on the site, after which it was named (presumably a nineteenth century St Kilda Rd mansion fallen on hard times). It was claimed at the time to be the first 'country club' hotel in Australia, a low-rise, non-licensed residential hotel in a garden setting away from the city, incorporating an outdoor swimming pool (probably the first hotel pool of its kind in Melbourne), gymnasium and tennis court. The 200-room hotel also offered ensuite bathrooms (a feature then largely absent in Australian hotels), rooms which could be easily converted into suites, and garages for guests' cars.
The Chevron was quite self-contained and, in terms of that period, very energy efficient with its modern gas-fired kitchen with automatic controls, automated dishwashing, internal incineration of all waste, internal boilers to supply all their own hot water, and recycling and filtering of water from the pool. 
In later years, of course, the hotel became reknown in Melbourne as the home of the Chevron nightclub. It was eventually purchased by the adjacent Alfred Hospital for use as a nurses' residence. The first high-rise apartment development for the site that was announced entailed the demolition of the entire original building, so thankfully a compromise was eventually worked out that enabled this important landmark in Australian hotel history to be retained.
Redeveloped into the Chevron Green Apartments in 2006.
Below, an old photograph from the 1940s and after that an old postard from the 1950s.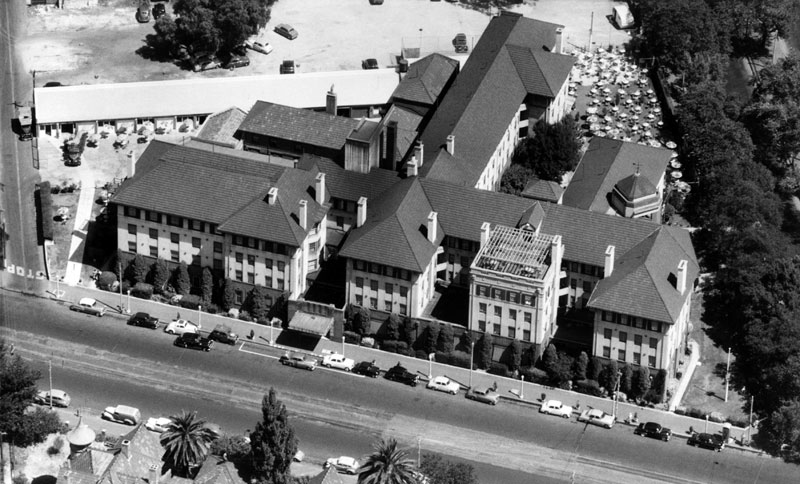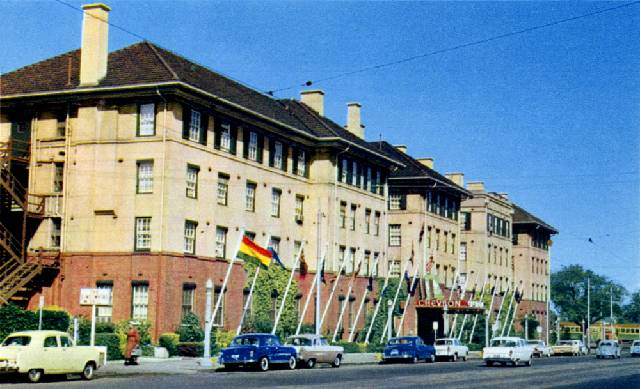 Image from Chris Suhr's Menu Collection.