Peter Maltezos
wrote on Sun, 19/05/2013 - 10:01
Main text from Walking Melbourne
The National Trust guide to the historic and architectural landmarks of central Melbourne
City Square
Corner Swanston and Collins Street
Melbourne's citizens longed for a central public space for decades, and this corner was finally chosen in 1966. The wonderful 1890s Queen Victoria Buildings were replaced by a square of grass in 1968, which immediately became the site for protests against the Vietnam war. A competition winning design across the whole block by Denton Corker Marshall (DCM) was opened by HM the Queen in 1981, but was dogged by controversy and perceived failure. A bright yellow abstract sculpture Vault, was controversially removed, the shops were too hidden, the ubiquitous bluestone did not endear, the water features were charming but noisy, so after 20 years, the City Square was demolished, Half the area was given over to an enormous hotel and apartment complex in 2001, and the square reduced to a very simplified, and little used, open space.
In the mid 1960s the Melbourne City Council decided to reserve the whole of the Swanston Street frontage from Flinders Lane north to Collins Street for a civic space in the heart of the city. One by one the properties were bought and demolished.
Most of what you see in the pic below was lost to make way for the City Square.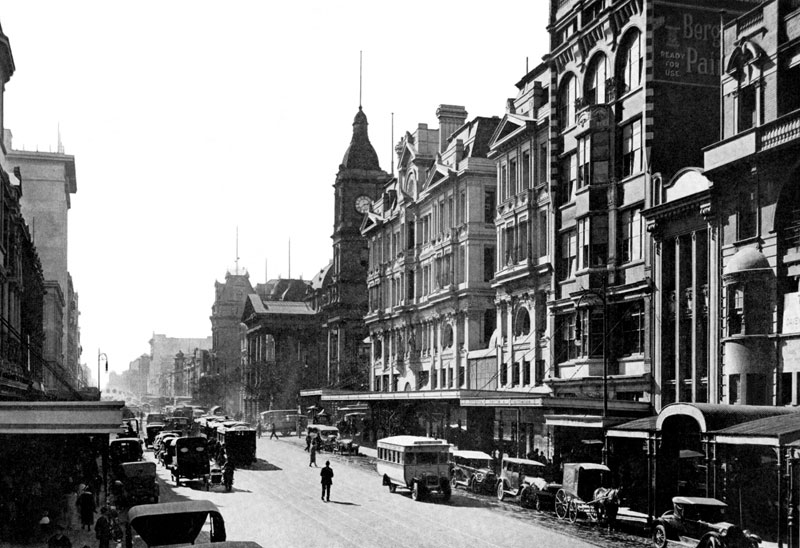 If the above shot took you south down to Flinders Lane, you would have had the Cathedral Hotel first , then moving north (left in pic), a five storey structure known as Green's Buildings, then a very exotic oyster and fish shop known for many years as Wise's Café. A feature of the next building north was an attractive little arcade known as Queen's Walk with one entrance from Swanston Street and the other from Collins Street. At the angle to this arcade, about 1926, a new business opened. It was known then as the "Victorian Travel Agency and Motor Tourist Bureau" and the address was 15 Queen's Walk. Years later the name was changed to the "Government Tourist Bureau". At the south-east corner of Swanston and Collins Streets was the Victoria Building of four storeys.
Part of Swanston Street's square of grass below, facing Melbourne Town Hall in 1967.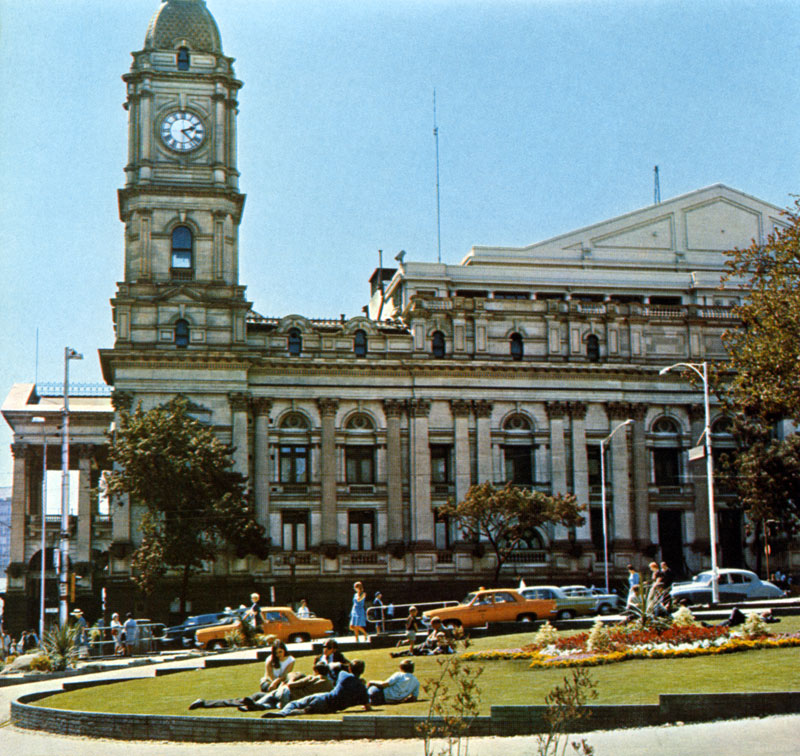 A few shots of the DCM designed City Square below, 1980s.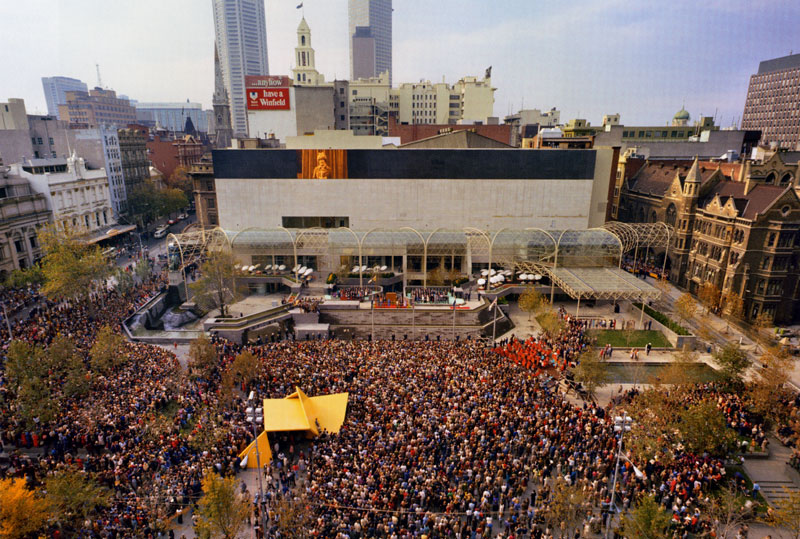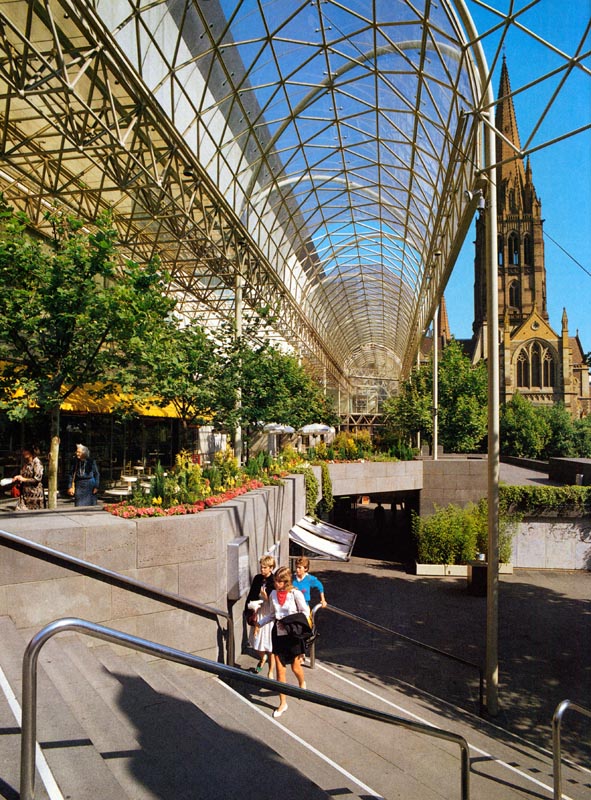 After demolition in the 1990s, it was replaced with the Westin Hotel and apartments and a City Square half the size it used to be.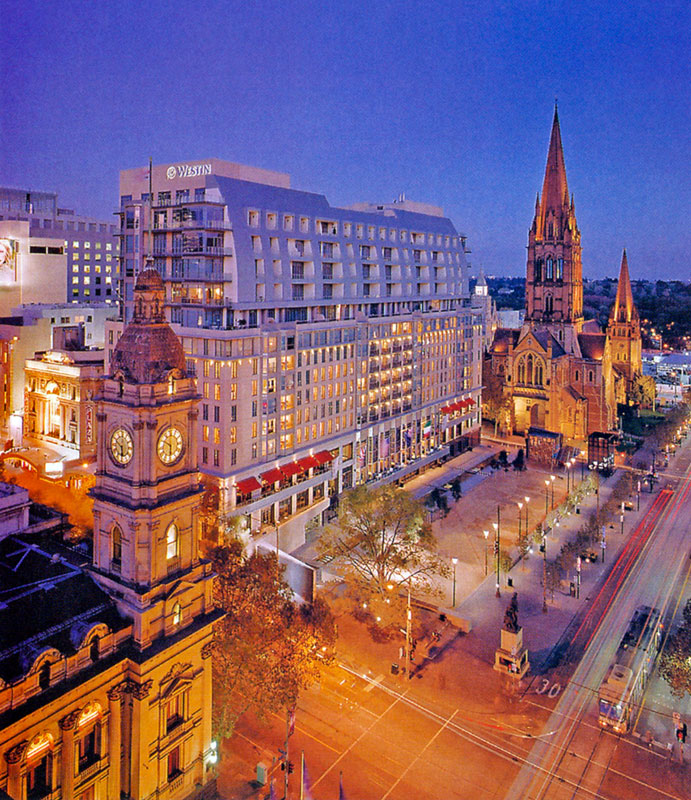 Six of my own below.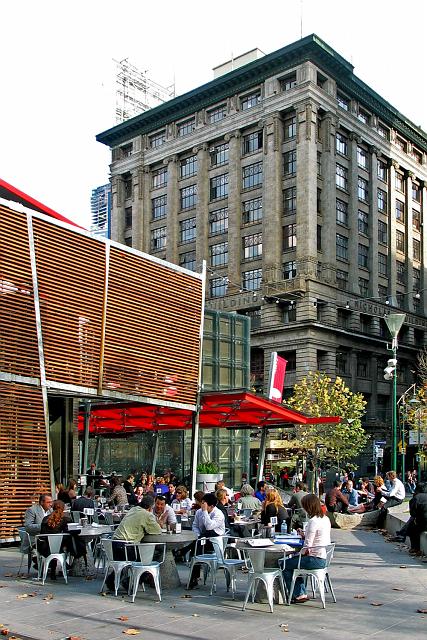 Brunetti's, one of te best things about the new City Square