Peter Maltezos
wrote on Thu, 11/04/2013 - 09:33
Text from Melbourne Architecture
Capitol Theatre
109-117 Swanston Street
1921-24 Walter Burley Griffin and Marion Mahony in association with Peck and Kemter
When this cinema opened in 1924, the public flocked to hear the Wurlitzer organ and see the movies and the spectacular light show afforded by the Griffin's plaster ceiling design. Like a crystal-hung cave, thousands of concealed coloured lights were gradually illuminated to provide a fantastic atmospheric experience. It was a space that evoked spiritual transcendence, but the interior of 'living rock' was not the direct romantic evocation of a Tuscan garden as seen in the later Forum. It was certainly otherworldly, but the image was distinctly architectural, suggesting a stepped pyramid form, the mystical essence of an original and arguably natural monument.
The Capitol was also of technical interest, to achieve such a dramatic ceiling, massive reinforced concrete portals allowed the interior structure to be hung uninterrupted by any internal columns. Outside, the Capitol is also distinctive. Two deep cornices cap two pylon motifs each of three vertical piers extending over the entire height of the façade. It is, as historian Jeffrey Turnbull has suggested, like a giant gateway. Cinema historian Ross Thorne has described it as, '…not a mere breath of fresh air wafting through the design offices of Melbourne, it was a howling gale of modernity sweeping out every vestige of revivalist decorative stylism.'
Tragically, in the 1960s, the owners decided to insert a shopping arcade right through the middle of the auditorium. A campaign to save the theatre was waged and a compromise was reached: the cave-like foyers were destroyed and a new floor was inserted. Many of the original lobby and vestibule spaces were either destroyed or boarded up, but the ceiling was saved. In recent years, great efforts have been made to restore surviving elements of the theatre. The dramatic cantilevering street canopy with its light globes and skylights is the most significant recent restoration.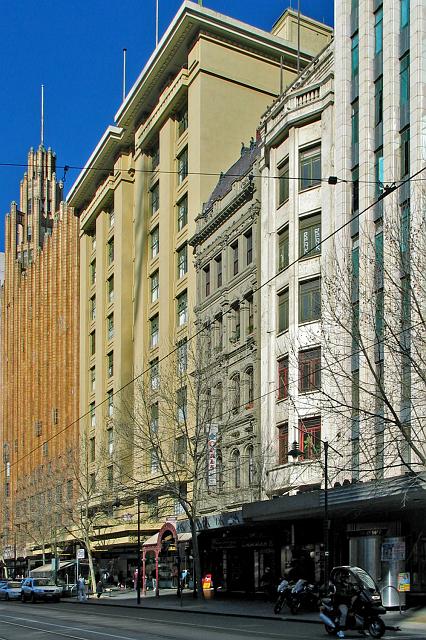 One of my own shots above and two postcards below.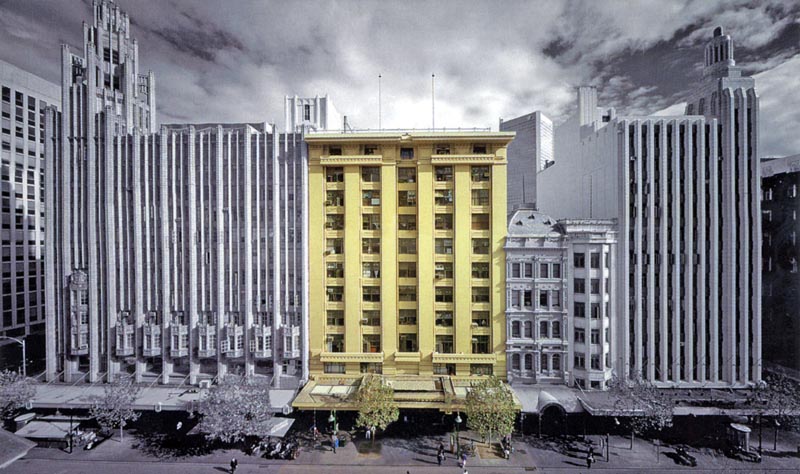 The incredible interior.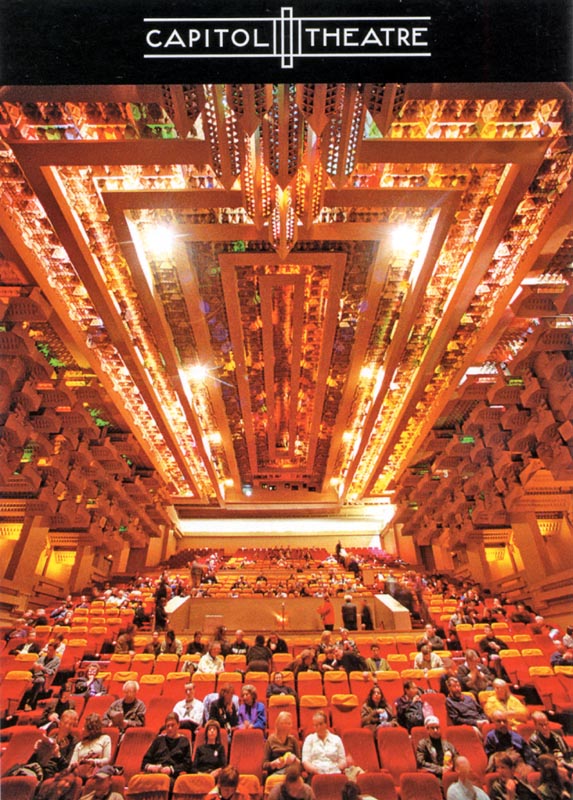 These three images below show the original ground floor that was demolished in the 1960s to make way for a very ordinary shopping arcade that leads to Howey Place.