Peter Maltezos
wrote on Sun, 07/07/2013 - 07:49
Text from Melbourne Architecture
120 Collins Street
120 Collins Street
1991 Daryl Jackson Pty Ltd in association with Hassell Architects Pty Ltd
A slender skyscraper reflecting its origins in the high-rise projects of Chicago architect Louis Sullivan, 120 Collins Street also defers to the the skyline of 1920s and 1930s New York. Designed with recessed central shaft, this means that the corner bays, delineated as more solid elements, give the impression of soaring height. The base is planned with multiple entry points off surrounding streets. A garden plaza with fountain is formed in the space between the new and old, and a Jackson signature diagonal slash in plan indicates a deliberate urban gesture to create an access route to the lift core.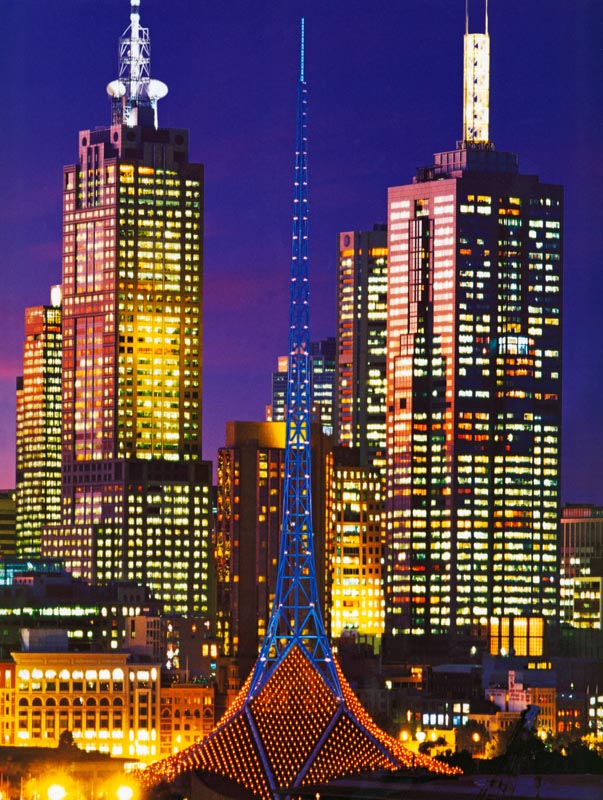 Above, one of the best lit skyscrapers in Melbourne, 120 Collins Street is seen on the left of this night shot.
Below, four  of my own shots.
The first one from Collins Street ground level, second and third, Bourke Street Ground level and the fourth showing how well it fits into Melbourne's landscape of towers and domes.