Streetcorner Jimmy premises in Teneriffe's London Woolstore for sale
Streetcorner Jimmy premises in Teneriffe's London Woolstore for sale
The restaurant and bar space currently tenanted by Streetcorner Jimmy in Teneriffe's converted London Woolstore has been listed for sale.
The ground floor commercial premises at 36i Vernon Terrace has recently undergone an internal refurbishment paid for by Streetcorner Jimmy to create a rustic, urban space.
They restored the unique character features of the building, with complementing modern elements.
Streetcorner Jimmy have a five-year net lease until 2023 with a fixed four per cent annual increase.
They have options until 2034 and are currently paying $98,800 + GST per annum.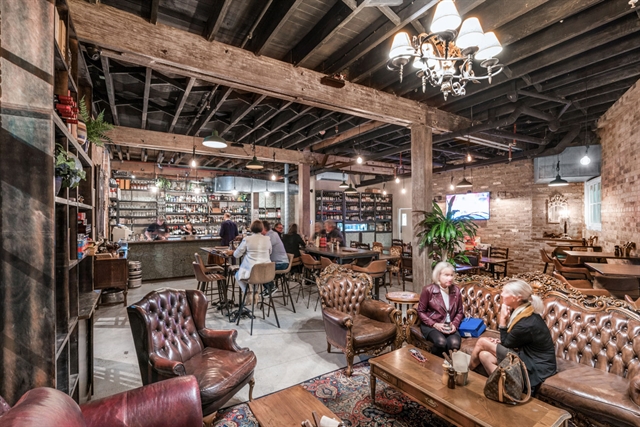 The property has a 215 sqm building area, made up of 140 sqm internal and 75 sqm undercover outdoor dining area.
There's a secure park in the building's parking facility.
Ray White Commercial Queensland agent Michael Feltoe has a September 6 auction.
"Fundamentally, this investment ticks all the boxes, an unrivalled corner location in a high traffic area and a landlord friendly lease to a high quality tenant who is performing exceptionally well," Feltoe said.
The original Woolstore was designed in the early 1910's by acclaimed architect Robin Dods.
Walls & Juster built the heritage-listed Vernon Terrace warehouse for Australian Mercantile Land & Finance (AML&F) who had purchased the land in 1910.
The original Hall & Dods architectural plans included a second store, which was built around a decade later.
The property was sold in 1980 to Pacific Fire Protection, which used level three for customer storage, while leasing level four to TL Tourrier & Co. Pty Ltd Woolstore.
The Brisbane City Council's Teneriffe Development Plan suggested recycling the buildings as a wool exhibition and tourist centre, however, in 2004, the Australian Property Growth Fund purchased the building and refurbished it to create 89 apartments.

Push Architecture designed the redevelopment.
The Federation era, four storey, brick and timber warehouse is capable of storing 14,000 wool bales.