Here's what social media data can tell us about the performance of Australian cities
Here's what social media data can tell us about the performance of Australian cities
The Australian government's new Smart Cities Plan: National Cities Performance Framework identified "professional networks" as one indicator for measuring the progress of Australia's largest cities.
It has based the indicator on social media data gathered from LinkedIn. This is the first case of government really using social media data to gauge the impact of urban policy on traditionally hard-to-measure issues.
What is the data?
The framework defines professional networks as:
… the average ratio of workers' LinkedIn connections in: the same city; other parts of Australia; and overseas.
It is based on the premise that knowing a city's professional network ratio helps to understand how connected its inhabitants are to other markets, customers and ideas – all of which support innovation, adaptation and city growth.
LinkedIn is the world's largest professional online network; it has more than 500 million members in more than 200 countries. In Australia alone, more than 9 million people have a LinkedIn profile: this is almost 75% of the working-age population.
The Regional Australia Institute and LinkedIn since 2016 have mapped data on local skills and job mobility of workers in eight regional Australian cities: Townsville, Sunshine Coast-Noosa, Greater Newcastle, Wollongong, Launceston, Darwin, Geelong and Hobart.
This work has been providing local leaders with critical near-time data on the skills, connections and mobility of their workers.
What do the data tell us?
Network data tell us how one node or person is connected to another. There are many different types of links, such as personal, professional, business, financial, or friends.
Your professional network is the people you do business with, learn from, get inspired by, or who may have snuck in under false pretences.
Depending on who you are, your professional network may or may not include family and friends. It may or may not be up to date, and it certainly is not the same for everyone.
We are looking at a city's professional network, not individuals. So, it is an amalgamation of people who together form a city's professional network.
For the eight cities in these reports, a general trend is that the average number of connections per member increases with city size.
But every city has a mix of local connections, national connections and international connections. The government is particularly interested in this breakdown of data when measuring city performance.
For the first time we can see what these data look like for eight regional cities. The data show that Newcastle and Hobart are very inwardly connected (31% and 32% local connections), while Darwin and Sunshine Coast (27% and 25%) are very internationally connected for Australian regional cities.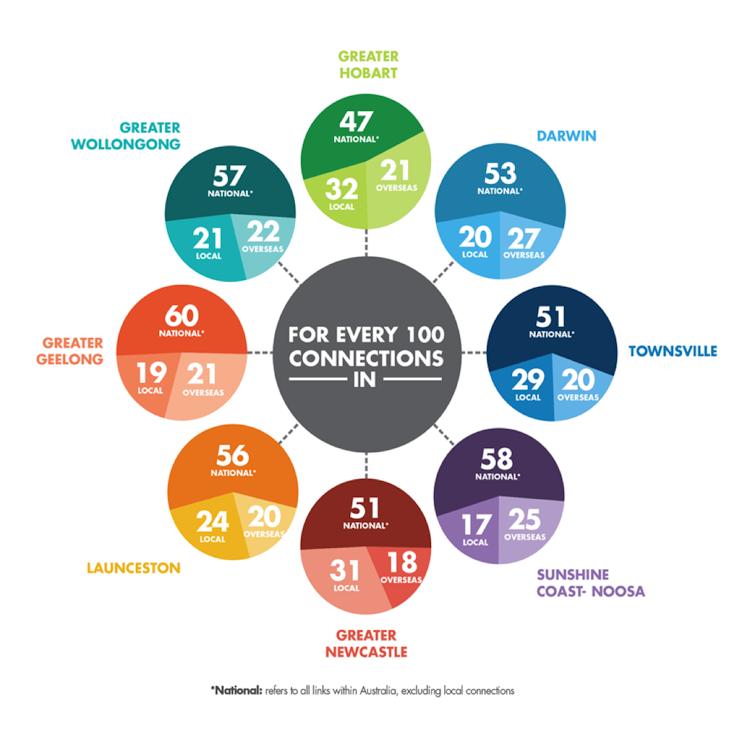 Regional Australia Institute, Author provided
A challenge for any city's performance framework is that once indicators are identified, how are the data generated?
Importantly for professional networks, what are the targets? What types of networks are measured? What identifies better city performance? Is it more connections? Or more local connections? Or more overseas connections? Is it a general rule, or is it city-specific?
In addition to what the National Cities Performance Framework is proposing, LinkedIn data can add a unique dataset not of qualifications (which is what most data measure), but of actual skills in demand for on-the-job performance.
For the eight cities, healthcare management was a top-five skill, as were IT infrastructure and system management, and education and teaching.
The data also show the skills with the highest mobility are a mix of hard skills (like software engineering and social media marketing) and soft skills (such as business development and relationship management, and management and leadership).
How data could be used to measure city performance
Data from LinkedIn provide a collective picture of skills and connections. The insights this provides rely on the sheer scale of membership, as the nature of membership and the level of activity of members are highly variable and depend on the line of work they do, or would like to get into.
These data tell us about each city as an island of people. It explores which places have more or less links.
This is a great step for understanding, in context, how outward-looking a city might be. It is therefore a reasonable proxy for what the Smart Cities Plan is trying to achieve when looking at city context. But we have to acknowledge that LinkedIn data are a sample of any location's population, and the connections do not tell us anything about the type or quality of links.
This work has the potential to build on several strands of topical core research into urban networks.
But, to do this, we would need to use LinkedIn data for what they are: network data. They have much greater depth and capacity than just as a measure of a city's "professional connections".
These data could test the current rhetoric on the benefits of mobile working arrangements, digital connectivity, or understand how the whole network of Australian city hubs and spokes functions.

Measuring city performance through LinkedIn data uses only a very small part of the analytical capacity these data offer. However, it is an important step in getting our national policy discussions to use big social media data as a tool to inform decision-making.
Leonie Pearson, Adjunct Associate, University of Canberra
This article was originally published on The Conversation. Read the original article.