Monomeath House, Canterbury sold… will demolition follow for the Edwardian gem?
Monomeath House, Canterbury sold… will demolition follow for the Edwardian gem?
The 1910 Canterbury offering, with its Monomeath House nameplate sold at recent auction for $3.5 million.
The Chinese vendors had paid $2.4 million in November 2013.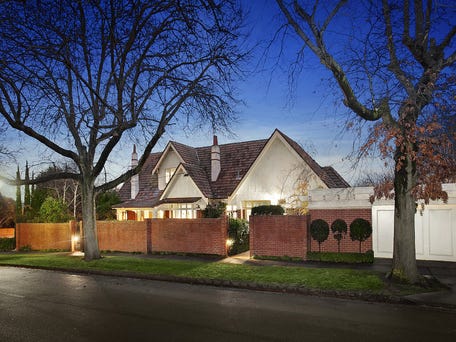 The gross $1.1 million gain was actually accrued over 16 months given the settlement date was April 2014.
Highlighting the Melbourne real estate rollercoaster, it had sold for even higher in the 2010 mini-boom at $2.625 million. In 2002 there was a sale just short of the $1million at $960,000.
Back in 1979 it fetched $100,000. The avenue recently saw its first $12 million sale.
With 42.4 metre (139 foot) frontage, the double brick Edwardian home weekend offering sat on a 952 sq m (10247 sq ft) holding within what is called the Golden Mile precinct.

Monomeath House is filled with ornate period detailing including soaring ceilings, leadlight and bay windows. Its upstairs retreat comes with city views.
RT Edgar selling agent Glen Coutinho suggested it had development potential as either a five star residence or multiple luxury dwellings. 
No video marketing campaign this time at 1a Monomeath, but when Marshall White offered it in 2013 the charm of the home was apparent.
Not sure when 1a Monomeath appropriated the name Monomeath House as of course Monomeath Avenue takes its name from Edward Snowden's house Monomeath, which was demolished at 2 Monomeath Avenue in 1949 by the Snowden descendants, the Demaine family who had a 1948 clearance sale.
Heritage records suggest Monomeath was surrounded by vineyards and orchards. The first subdivision of Edward Snowden's seven hectares was at the turn of the century with the Monomeath gates, formerly on Canterbury Road, brought round to face the new Monomeath Avenue.
When Camberwell Council made the road in 1911, there were only a few houses in the area, with Monomeath Avenue's beautiful oaks planted when the road was made in 1911.