First home buyer numbers also gone missing in worrying ABS data blackhole
First home buyer numbers also gone missing in worrying ABS data blackhole
It's not just doubts over the unemployment number accuracy of the ABS that is troubling for everyone who wants to gauge the strength or weakness of the Australian economy.
Today's October RBA chart pack again had no first home buyer data from the ABS.
Owner occupiers and investors yes, but not the key indicator of the first timers.
The October chart pack certainly shows the troubling narrowing of the gap between investor numbers and the traditional owner occupier market.
But the first home data disappeared ever since the June chart pack (below).
An RBA spokesperson advised Property Observer back in June that the central bank had decided to remove the data from the chart pack graph while it is being reviewed by the ABS provider.
As I then wrote, the Fairfax Media columnist Michael Pascoe had first noted the RBA had intriguingly dropped first home figures from its June economic data chart pack, suggesting perhaps it was as a consequence of rising concerns about the possible underestimating of first home buyer statistics.
So May (below) was the last time the RBA board published detailed first home buyer numbers, showing that first home buyers had supposedly withdrawn from the market.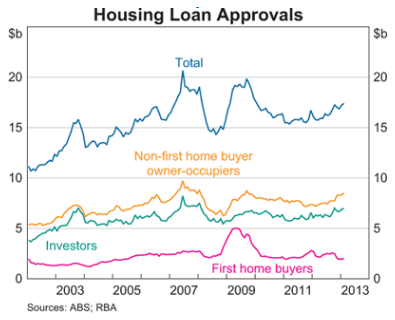 These extraordinary data lapses in housing and employment data won't be helping poor Joe Hockey's understanding of the economy. So rather than the government trimming the ABS's funding, which began under Labor, perhaps it actually needs a funding boost.