Sydney's busiest auction weekend in five months
Sydney's busiest auction weekend in five months
There are 1,136 capital city homes scheduled to go under the hammer this week, an expected increase in volumes of 24% on last week.
This is because Sydney is set to have the busiest week for auctions since early April.
The past few weeks has seen Melbourne record the lowest levels of auction activity over a non-seasonal period since CoreLogic commenced auction reporting.
While volumes this week are to remain at these same subdued levels, scheduled volumes are higher over the week with 62 Melbourne homes set to go to auction, up from a mere 11 auctions last week.
Meanwhile across Sydney, the city is set to host the busiest week for auctions since April with 843 homes scheduled for auction, rising on the 677 held last week.
Across the smaller auction markets, Brisbane is expected to hold the most auctions this week (86), followed by Adelaide (71) and Canberra (63).
Meanwhile Perth has 11 auctions scheduled this week and there are currently no auctions scheduled in Tasmania.
The Sydney auction market has proven unstoppable over the past several months, according to Ray White.
Ray White Balmain Agents Chris Williams and Benjamin Martin said First home buyers and downsizers will be lining up at 30 Arthur St, Balmain (pictured above) for an early morning auction. The two-bedroom home has attracted more than 100 groups at inspections.
"This is the first time this house has been offered in 70 years. The late owner bought it from her sister who originally bought it from their mother," Mr Williams said.
The Balmain home has a buyer's guide of $1,200,000.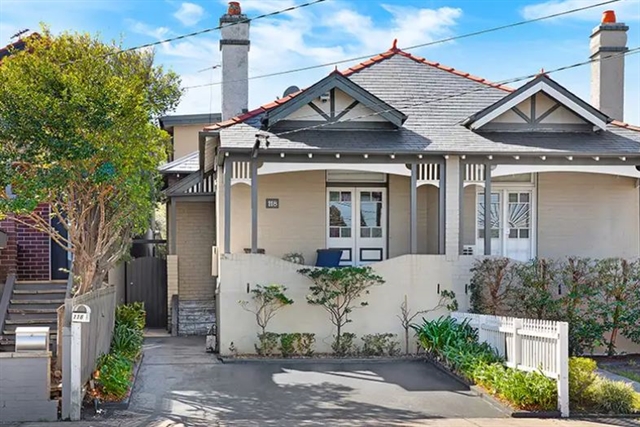 Across the bridge, Ray White Drummoyne Agent Fiona Hellams has been inundated with buyer interest for 118 Gipps St (pictured above) that has a price guide of $1,700,000. Ms Hellams is expecting a great result come Saturday, after more than 70 groups attended open homes for the three-bedroom house.
"I'm finding that buyers have mainly been from out of the area, looking to get their foot in the door because they see value in Drummoyne," Ms Hellams said.
The auction will be conducted onsite and online.
In Sydney's south, Ray White Georges River | St George | Oatley Principal Matt O'Shea is looking forward to the sale of 5/8 Lousia St, Oatley.
Mr O'Shea said the three bedroom home has received plenty of interest and more than 70 individual inspections.
"Because it's a good-sized villa we're getting a combination of buyers ranging from downsizers to the other end of the spectrum with young professional couples and small families looking to move into something bigger," Mr O'Shea said.