Bronik and Corrine top the five remaining 2015 House Rules mortgage prize contenders
Bronik and Corrine top the five remaining 2015 House Rules mortgage prize contenders
Karina and Brian, the West Australian couple were the first team to be eliminated from House Rules. Karina and Brian stood to pocket their mortgage of middle order $360,000 if they had won the latest Channel 7 series of House Rules.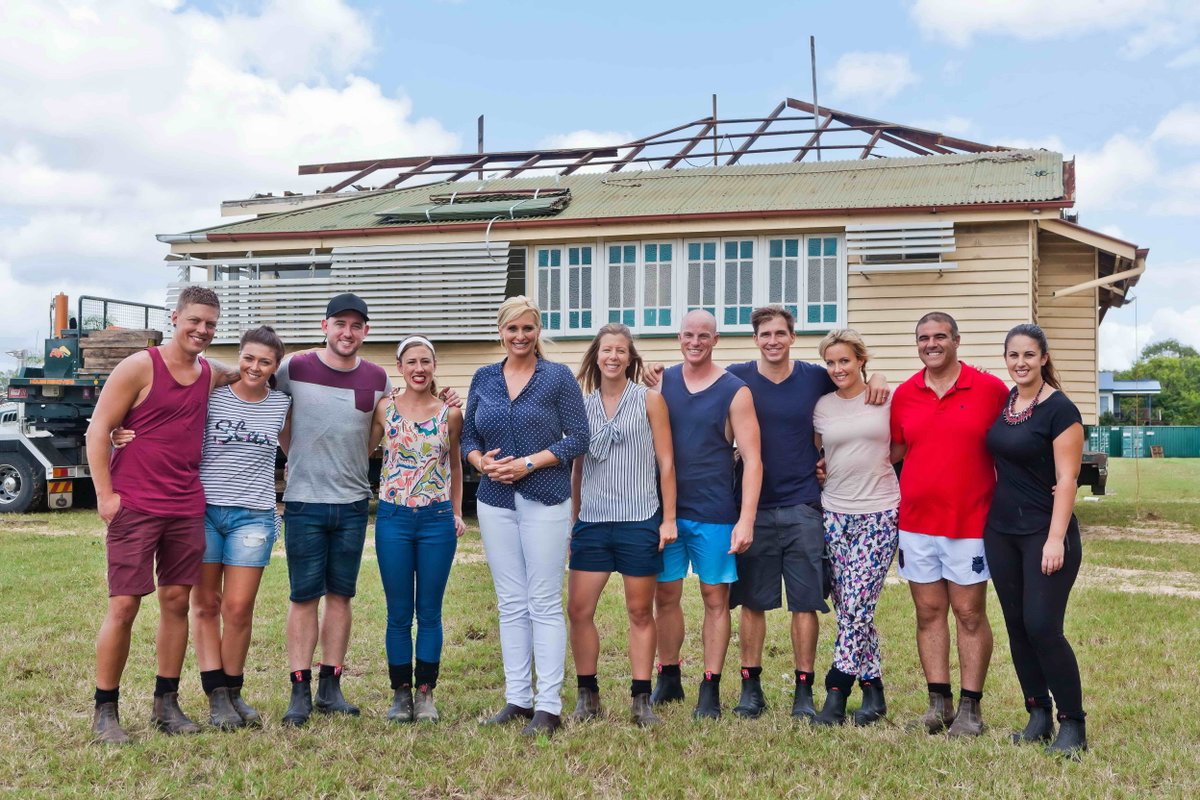 The remaining five contestants on the Seven reality home-renovation competition have mortgage prize potential between $250,000 and $448,000 with Bronik and Corrine potentially the biggest winner. It will be the cheapest mortgage prize yet in the three-series ratings winner, though Channel 7 are also giving away to a viewer a Toogoom, Hervey Bay holiday home.
Viewers would expect Sydney to have the highest mortgage but Steve Falzon - of the father and daughter team - bought his Shalvey house for $130,000 around 23 years ago. He has a $250,000 mortgage that would be wiped if they (pictured below) win the Johanna Griggs' hosted series.
2) Contestants, Ryan and Marlee's mortgage is $229,000 - paying off what the Adelaide couple dub the ugliest house in South Australia. Ryan Rebbeck purchased the house four years ago alone, and works two jobs, garbage collector and paver. Marlee Murphy, who works as a travel agent, entered the duo on the show now in its third series.
They have big shoes to fill as the first House Rules winners South Australian team Carly and Leighton took out the top prize of the high rating renovation show, with their $450,000 mortgage wiped clean. Michelle and Steve from New South Wales were announced runners up in that series. They had wanted their $629,000 mortgage – the biggest mortgage on the show - wiped, but ofcourse they didn't walk away empty handed with their newly renovated home to be potentially worth $180,000 to $225,000 more. The second series was won by Victoria's Adam and Lisa who had their $546,000 mortgage paid off.
3) The 2015 Tasmanian House Rules contestants, Cassie and Matt have a $248,000 mortgage, the third smallest on the series. Their affordable, quirky 1960s home is in the Geilston Bay suburb.
4) Brisbane couple Ben and Danielle's mortgage is $405,000. They are the newlywed who bought the Brisbane home four years ago.
5) The $500,000 early 2014 purchase in Reservoir by House Rules contestant couple Bronik and Corrine sits as the priciest of potential prize outlay.
Bronik Davies, who confided that he was the first of his male descendants to own a house, has a $448,000 mortgage which would be wiped if the couple win the renovation competition.
House Rules premiered in May 2013 with the state-versus-state renovation series, from the makers of My Kitchen Rules, aiming to deliver true home renovations as the six contestant couples put their entire home on the line
Host Johanna Griggs expected and got lots of passion and pride in the way teams tackled the renovations.
"It's a bunch of likeable Australians with amazing back stories," Griggs advised Property Observer with a "life-changing prize on the line." 
Johanna Griggs, the presenter of Better Homes and Gardens, is herself a keen home renovator, who on launch was building her fourth home with husband, builder Todd Huggins.
"You put your heart, soul, blood, sweat and tears into what you produce and when you realise you've done it together it's an incredibly satisfying and addictive feeling."